Today, August 22, popular Nollywood actor Nosa Rex and his wife Deborah Nosa Rex are commemorating their seventh wedding anniversary.
Recall that the wedding took place on August 22, 2015. Three children, two boys and one girl, are born into their union.
To mark their 7th wedding anniversary today, Nosa Rex and his wife took to Instagram to share lovely photos as they pen sweet messages to each other.
Nosa appreciated his wife for her love and for accepting him the way he is.
He then promised to always love and stand with her all day.
In his words;
"Happy Anniversary to us baby. It's 7 years today and forever to go. I pray that God will continue to bless our union.
Thank you for loving me so much
Thank you for allowing me do me
Thank you for accepting all my rubbish
Thank you for holding it down for me
Thank you for supporting me.
I love you so much my world. I promise to always love you and stand with you all day. Let's go baby. I gat you for life and We growing old together baby
You are my number 1 d champion helloooooo"
On the other hand, his wife wrote;
"You complete me baby..
I love you so much..
Thank you for spoiling me with love and other things👅🥰
It's not your birthday jooorr😂
I have never had a reason to regret knowing you for 10 years…
7 years and I'm still falling in love with you❤️❤️❤️
I told you it forever….. my sugar daddy❤️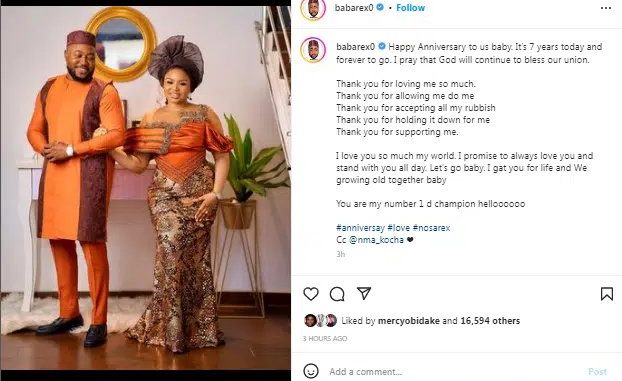 Actor, Nosa Rex & Wife Celebrates 7th Wedding Anniversary With sweet messages
---
deborah nosa rex biography, nosa rex brother, deborah nosa rex age, nosa rex father, nosa rex net worth, wedding anniversary messages, nosa rex, wedding anniversary prayers, open my whatsapp, whatsapp update download, whatsapp messenger, whatsapp download, whatsapp update, whatsapp business, new whatsapp,