Nollywood actress Bukunmi Oluwasina has stirred reactions online as she publicly displays her baby bump on social media.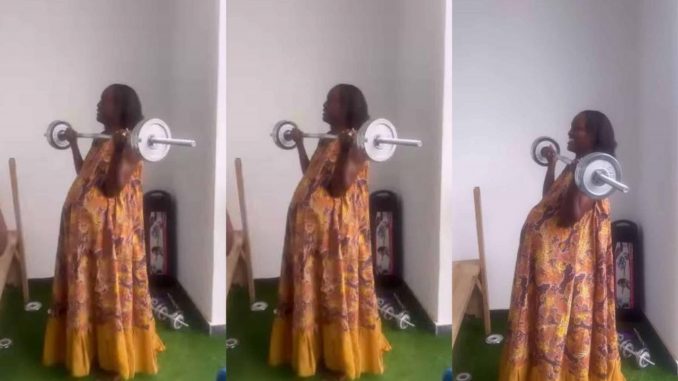 The actress, who had always been secretive about her personal life, shocked many with the random video she shared on Instagram.
Bukunmi Oluwasina took to her verified Instagram page, where she shared a video of herself trying to own up to a challenge with men on the movie set of "Making Magic".
The video captured the rocking baby bump of Bukunmi Oluwasina, which was fake and meant to portray a role in the movie.
Bukunmi Oluwasina used the video to express what their morning looks like whenever they aren't filming under pressure or stress, stating it had been fun and adventurous.
She wrote: What the morning looks like on set, when you ain't filming under pressure or stress. It's been fun and adventurous out here.
So, The men challenged me, And I gladly took it. O shock won bakan.
Don't mind my bouncing pregnancy o, I had to loosen it a bit so it won't rob me of my comfort and strength.
Recalls that Bukunmi Oluwasina revealed the magical bond between herself and veteran Nollywood actress Sola Sobowale.
Bukunmi disclosed this when she shared multiple photos of herself and the legendary King of Boys movie star, stating she was honoured to be partnered with Sola Sobowale for a movie.
Bukunmi Oluwasina claimed that Sola Sobowale had been responsible for her welfare and disclosed how she had personally cared for her.
She wrote: I can't wait for y'all to see this magic. Oloun
I had to come all the way for this cos i fell wholeheartedly in love with this script.
Plus @solasobowale Is such a mother. Too sweet and caring. She's actually taking care of me on set, She Personally and single-handedly did my makeup for me. It such a great honour working with you again ma. And I always have different new things to learn from her everytime. Oba is a Legend and more. solasobowale
WATCH VIDEO BELOW…
Actress Bukunmi Oluwasina stirs reactions as she displays her baby bump online
---
bukunmi oluwasina husband, bukunmi baby, bukunmi oluwashina age, bukunmi oluwasina instagram, bukunmi oluwasina phone number, bukunmi oluwasina whatsapp number, bukunmi oluwasina duro, bukunmi oluwasina husband photo,