Controversial crossdresser, Bobrisky, has dished out a challenge to ladies to show that he is unbeatable when it comes to giving a man a blow job.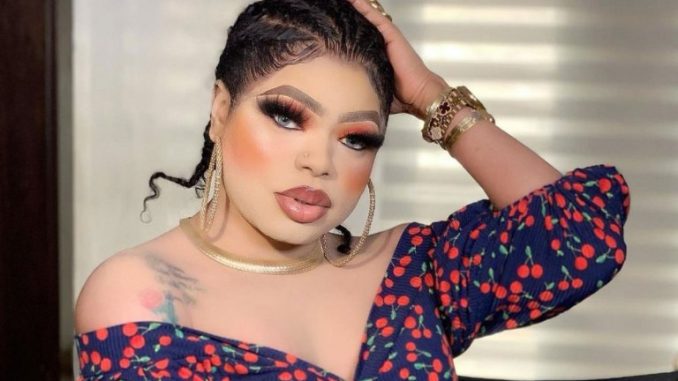 Bobrisky, who parades himself as a woman, remarked that he is always on top of his game when it comes to giving men heads pointing to the fact that he is not called 'risky' for anything.
The effeminate crossdresser challenged ladies to bring their husbands to her to see whether they would return after he gave them an unforgettable experience with his "head."
He wrote; "Y do you think they call me RISKY? I don't get tired…my head game is to die for no worry. Anything for bedroom haaa..i get PHD for am".
See screenshot below;
In other news, Benito, the son of Abdulrasheed Bello popularly called JJC Skillz who is the husband of Nollywood actress, Funke Akindele has revealed the current state of his father's marriage.
Benito made this revelation during an Instagram live video after a fan inquired if his father and Funke Akindele are presently on good terms.
In response, Benito remarked that there is tension between Funke and her husband. JJC Skillz and Funke, he continued, have both cheated and are fighting one other.
Benito also stated that they are no longer living together.
He claims that he is weary of their lies and that anyone on their team should be able to speak the truth about their union.
Benito further dissociated himself from them by declaring that he no longer cares about or has anything to do with them.
This comes after various stories surfaced about Funke Akindele and JJC Skillz's marital problems.
Watch the video below…
My Head Game Is On A 100% Level, If You Doubt Me, Bring Me Your Husband And See If He Returns To You – Bobrisky Brags
---
bobrisky pictures, bobrisky real face, bobrisky wife, bobrisky wedding, bobrisky pictures 2021, who is bobrisky husband, bobrisky child, bobrisky and his wife,