Award winning singer, Burna Boy's parents, Bose Ogulu and Samuel Ogulu are celebrating their 32nd wedding anniversary today, September 2nd.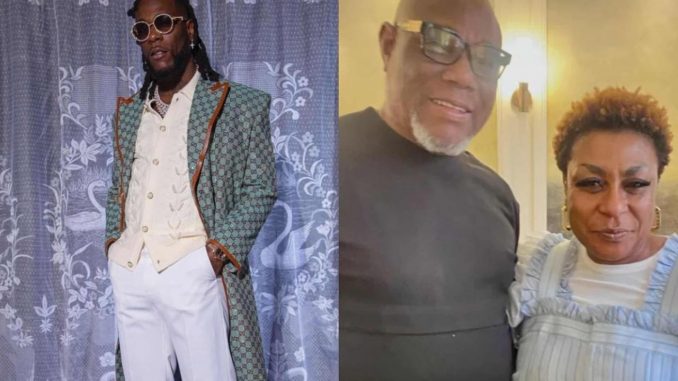 The couple who tied the knot in 1990 are blessed with 3 wonderful talented children, Damini (31), Ronami (29) and Nissi (28).
Bose Ogulu took to her Instagram story to mark their anniversary.
Sharing a photo of her and her husband, Burna Boy's mother prayed for more years with him.
"Happy 32nd anniversary to us. Looking forward to forever & a day, one day at a time".
News reported that Bose Ogulu, the mother and manager of Grammy award winning singer, Burna Boy had penned a short birthday note to her son as she celebrated his birthday.
The singer clocked 31 on July 2nd.
Taking to Instagram, Bose Ogulu noted how Burna Boy had made her a proud mum with his numerous achievements.
Giving him a birthday shout out, she stated that she was proud of the man he was becoming.
"Happy Birthday D. You have given me so many reasons to be proud of the man you have become. Let us tone down the madness. Cheers to a new age".
News also recalls that Bose Ogulu, had showered love on Burna Boy as he became the first African artiste to perform at the Billboard Music Awards.
The Billboard Music Awards held on Sunday, May 15, 2022 and had in attendance Burna Boy and his mother. The singer took to the stage to perform his several hit songs and became the first African artist to achieve such a feat.
Bose Ogulu took to her Instagram page to applaud her son for the record-breaking achievement. Bose went on to list the many records her son had broken for the past week.
According to her, Burna Boy was the first African artiste to not only perform at Billboard but also at Grammys, BET Hip-hop awards, and Brits.
"A lot of firsts this week @burnaboygram became the first African artist to perform at the BBMA's, Grammy's, BET Hip-hop Awards and Brits…. Also, our First trip to Vegas!"
Burna Boy parents mark 32nd anniversary in grand style
---
burna boy mother, is fela burna boy father, burna boy state of origin, is burna boy father still alive, what tribe is burna boy father, burna boy biography, burna boy siblings,