Actress Chacha Eke on Friday shared her first photos on Instagram without her wedding ring.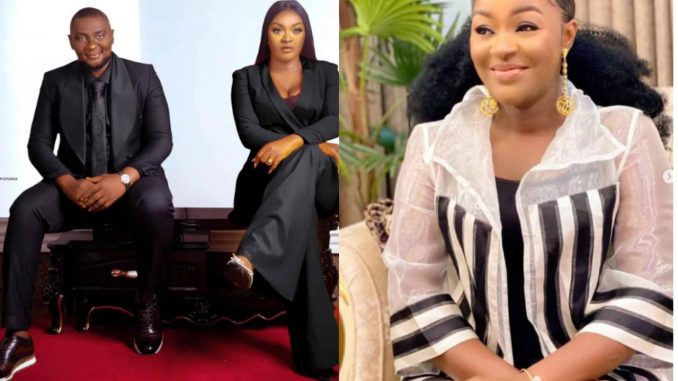 This latest move comes a week and some days after announcing her marriage crash.
The 34-year-old posted the photos on the platform without a caption.
Reacting in the comment section of the post, actress Ruby Ojiakor wrote: "The lord is your strength."
The actress left a shocking message for her 4 million followers on Instagram in the early hours of Tuesday, June 28, where she revealed that she has been living lie.
Chacha explained that she left the marriage to movie director Austin Faani because she does not want to die in it as "many have died pretending all is well whilst wishing, hoping and praying for a better tomorrow."
Chacha further stated that her estranged husband should be held responsible if she suddenly goes incommunicado.
In a statement titled "LEAVE NOW ALIVE OR LEAVE AS A CORPSE", Chacha wrote: "Many have died pretending all is well whilst wishing, hoping and praying for a better tomorrow. I don't want to "die" or go inexplicably "missing". I sincerely and publicly apologize for living a lie these past years.
"True to random speculations, there has been trouble in my "perceived paradise". For the 2nd time in 2years, I am here again on social media boldly declaring that I am done with my marriage.
She continued: "My long overdue/relentless stance on this is of course no news to Austin Faani, the doctors and my parents. If push comes to shove & suddenly I am incommunicado; my lawyers, the welfare department and the Nigerian police force have my testimonials in recorded video clips/statements set for public release on all social media apps and national newspapers.
In other news For Nollywood actor and movie producer, Itele the public humiliation he faced for being a dead beat father was a reawakening for him to do better in his fatherly duties.
Since the actor was mercilessly dragged on social media, Ibrahim Yekini better known as President Kuti or Itele has upped his games.
The actor who has several children from multiple babymamas has been showing his kids so much care and attention.
Taking to Instagram, Itele shared a video of himself giving his other children a makeover.
The actor took his daughters on shopping spree where he spoilt them with clothes.
Captioning the video, he wrote, "Family time" CONTINUE READING…
Chacha Eke finally dumps wedding ring after Marriage Crash
---
chacha eke faani house, chacha eke pictures, chacha eke biography, chacha eke daughter's, chacha eke wedding pictures, what happened to cha cha eke, chacha eke net worth, chacha eke birthday,