Temilade Kosoko, the daughter of renowned Nollywood actor Jide Kosoko, has sparked comments online as she allegedly marries her lover.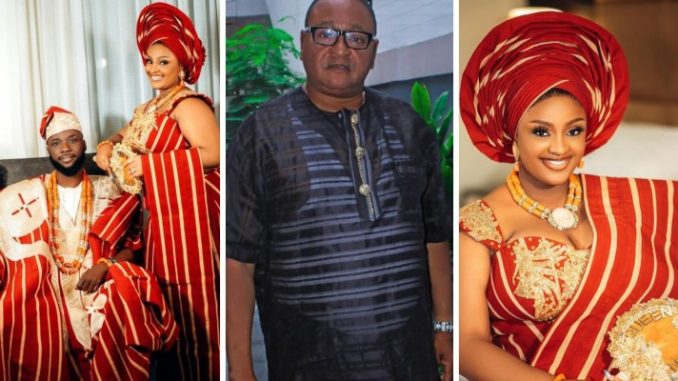 The stunning and aspiring actress posted images of herself and her presumed husband dressed similarly in traditional garb, ready for a nice photo shoot.
Temilade Kosoko also posted various videos to her Instagram profile in which she and her alleged partner could be seen dressing up for a stunning wedding in a western bridal ensemble.
Many people are confused about whether Temi Kosoko is legally wed or whether the post is a video promotion similar to Teni's video-themed wedding that surfaced online a month ago. Mixed reactions have followed the post.
Many got a confirmation from Temi Kosoko's sister, Shola Kosoko, after the former refused to clarify her followers on her supposed marriage
Sola Kosoko, who commented on one of her sister's posts, wrote: Wow! Wow! This wedding is going to be awesome 😭😭😭
Congratulations in order as Jide Kosoko's daughter, Temilade, ties the knot with her lover
---
jide kosoko daughters, temilade kosoko age, is temilade kosoko married, temilade kosoko mother, muyiwa kosoko, jide kosoko picture, jide kosoko net worth, open my whatsapp, whatsapp update download, whatsapp messenger, whatsapp download, whatsapp update, whatsapp business, new whatsapp,
---
Do you know you can make money from this site? Just by reading news, Sharing content, Commenting, posting and more…
Kindly Hit The WhatsApp button below for more information and how to process your registration.
Click to WhatsApp
Click to WhatsApp
---