– The number of coronavirus cases in Nigeria is very close to 40,000 – The NCDC on Saturday, July 26, revealed that the country presently has 39977 cases – Added to this, the death toll, according to the commission, is 856 The Nigeria Centre for Disease Control (NCDC) on Saturday, July 25, released the latest update on the coronavirus infections in the country with a death toll that is rather threatening. As at Saturday night, the NCDC revealed that Nigeria has 438 infections added to what it already has, taking the number of cases much nearer to 40,000 (precisely 39977). Among states that have new infections, Lagos is still top on the list with 123 cases, followed by Kaduna (50) and Rivers (40). However, the good news is that the number of persons who have been discharged are increasing daily, presently 16948 recoveries.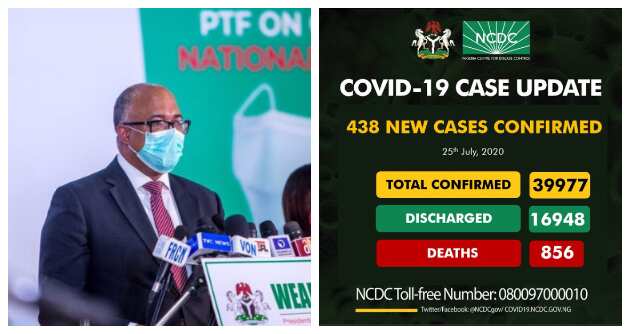 At the bottom of the list are Niger and Sokoto state both of which have 1 case. Meanwhile, Nigeria's former president, Olusegun Obasanjo, had identified three key lessons the Nigerian government and its people should learn from the coronavirus pandemic. Obasanjo made the observations on Wednesday, May 27, at a virtual book launch organised by Afrobarometer, a non-governmental organisation based in Ghana. Legit.ng gathered Obasanjo was a discussant at the event alongside other African leaders. According to Obasanjo, there were three key lessons he Nigeria should learn from the coronavirus pandemic. The first one was to attach great importance to the issue of food security in the country and take it more seriously in the country's economic policies and implementations, the former president noted.
The second lesson, according to the Ogun state-born politician, is for the country to take the issue of information and communications technology more seriously. He noted that Zoom and other virtual platforms have given the opportunity to meet for economic activities despite the lockdown, adding that this will be the way to go when the pandemic was over.