Funke Akindele's husband JJC Skillz has sent a beautiful message to her amidst rumors of having a marital crisis asking her not to let anyone spoil her vibe with the rumors going on.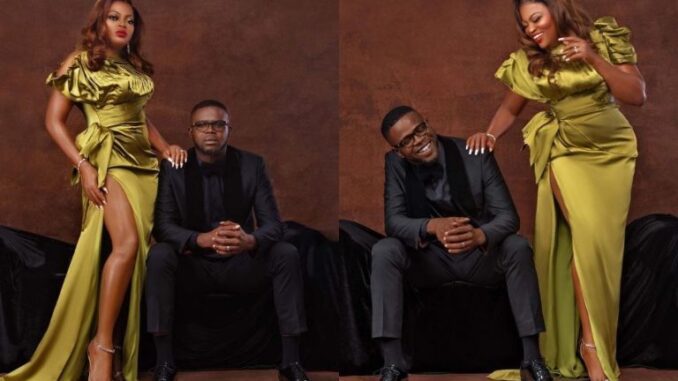 Funke Akindele allegedly asked her husband JJC Skillz to leave her house during an argument and that is why he's currently in London to give her space to calm down so they settle whatever misunderstanding they have which we know is normal in most marriages.
Indirectly reacting to the rumors making around online, JJC Skillz has asked his wife Funke Akindele not to let anyone spoil her vibe asking her to have fun with the kids as he will see them soon because he misses them.
According to him, the only rock he knows that stays steady and the only institution he knows that works is the family, and though London is cool, he misses home and its family first for him in everything hence the devil is a liar if they want to separate them.
The only rock I know that stays steady and the only institution
I know that works is the FAMILY. London is cool but I'm missing home @funkejenifaakindele my love ? Have loads of fun with the children. See you soon at home. Don't let anyone spoil your vibes ? #familyfirst❤️ #Bellos4ever #chinesswhispers #devilisaliar
Post below;
JJC Skillz Sends Beautiful Message To Funke Akindele Amidst Marital Crisis
---
funke akindele & husband and twins, funke akindele children, funke akindele step-children, funke akindele twins, funke akindele husband age, funke akindele first husband, funke akindele mother, funke akindele twins photos,