Nollywood actress, Ruby Orjiakor has been spotted appealing to a water goddess not to sweep her away.
The seasoned actress made the plea while shooting a movie scene in a river. Stepping into the waters with her crew members, Ruby was heard screaming as she begged the river and its inhabitants not to sweep her away as she film her scenes inside the river.
'Na film I come shoot oh, make you no carry me go', she was heard saying. She was however assured by her crew members that she will not be carried away.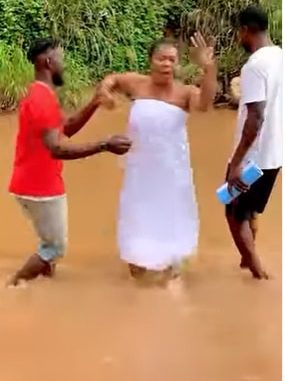 NB recalls that Ruby Orjiakor, Destiny Etiko, Luchy Donalds and Oma Nnadi showered love and prayers on actress, Chacha Eke Faani after she announced her separation from her husband of 9 years.
News recalls on June 28, Chacha Eke broke the hearts of her fans when she announced her split from the father of her four kids.
The actress cited numerous reasons why she left, which included abuse.
Detailing why she left her marriage, Chacha Eke said she had to quit while she was still alive than leave as a corpse. She also claimed she didn't want to die or go inexplicably missing.
Speaking on her separation, Chacha Eke claimed she had released some evidence such as videos, voice notes, and photos to the police force, her lawyers and the media in case things went south. Read more here.
To worsen it, Chacha Eke left many worried as she issued an SOS.
SOS is a distress signal which stands for (Save Our Soul).
Ruby Orjiakor begged river goddess in order to shoot a new movie
---
d searches, golden ara, ruby orjiakor wikipedia, is ruby orjiakor married, ruby orjiakor husband name, ruby orjiakor state of origin, ruby ojiakor daughter, ruby ojiakor mp3, golden ara pictures,