Ghanaian singer, Shatta Wale has taken to Twitter to praise Nigerians months after he had accused them of not supporting Ghanaian artistes.
Recall that some months back, the singer had gone into an online battle, as it were, with Nigerian artists and Nigerians in general.
The singer has now deprecated his country's music, and at the same time praised Nigerians, saying they should be respected for their hard work.
He wrote:
"Please can we just respect Nigerians for their hard work and stop comparing our lazy lifestyle to theirs .. It's shame ppl think Nigerians will come hard at me but see they are the ones doing the streaming cuz they understand what Talent means .. Ghana music is a shame."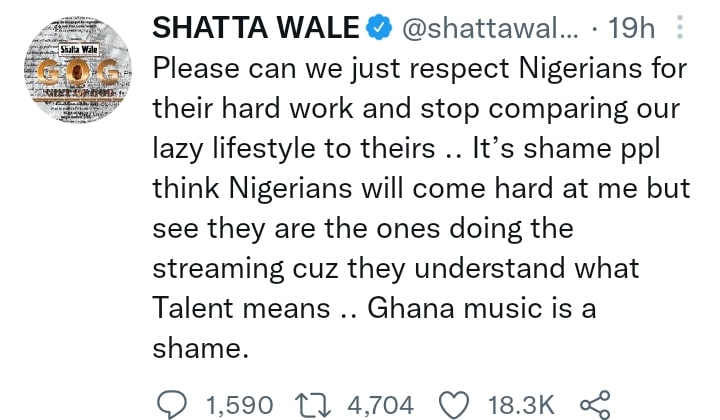 "Ghana music is a shame" – Shatta Wale says as he hails Nigerians months after accusing them of not supporting Ghanaian artistes
---
what did shatta wale say, shatta wale and davido, shatta wale cars, shatta wale and burna boy, shatta wale news, shatta wale wife, shatta wale songs 2022, shatta wale net worth,
---
Do you know you can make money from this site? Just by reading news, Sharing content, Commenting, posting and more…
Kindly Hit The WhatsApp button below for more information and how to process your registration.
Click to WhatsApp
Click to WhatsApp
---