It's being wildly reported on social media that Ghanaian dancehall singer, Shatta Wale has been hospitalized after he was shot by some gunmen.
According to the several reports, he was reportedly shot by gunmen at East Legon on Monday evening, leaving him in a critical condition. The singer is reported to have been admitted at an emergency unit of a hospital (yet to be known) in Accra following the incident.
Shatta Wale's Personal Assistant, Nana Dope confirmed the report on his Snapchat and asked Ghanaians to keep Shatta Wale in their prayers. He also revealed that videos of the singer in a pool of blood shouldn't be circulated on social media.
He wrote,
"Please those circulating the video should kindly stop!! i believe the king is gona come out alive and okay!!! keep him in your prayers! they can never bring a good man down!!! shatta wale is stronger than this so lets be otroch for him."
Nana also revealed that the Ghanaian police intervened after the shooting. He added;
"Thanks to all those calling to check up, the king is still at the emergency ward receiving treatment THE GUNMEN ARE STILL ON THE RUN Thanks to Ghana Police."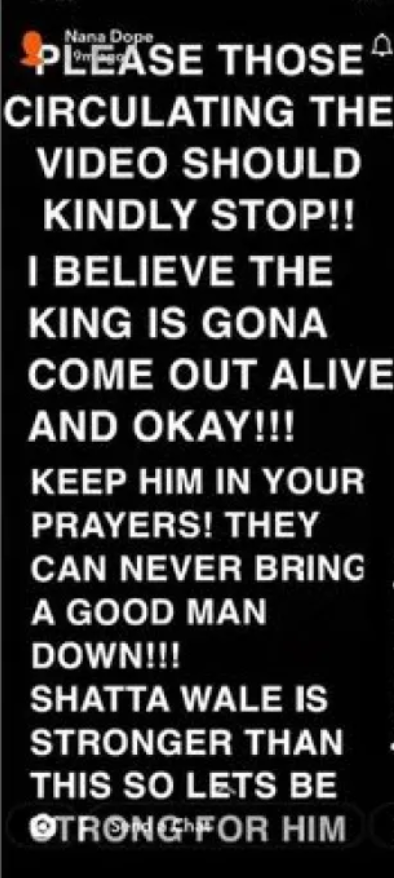 Ghana Police in reaction took to Facebook to share an update:
Police Investigates Claims of Shooting Incident Involving Shatta Wale.
The attention of the Police has been drawn to the widely circulated news on the alleged gunshot-attack on one Charles Nii Armah Mensah popularly known as Shatta Wale.
On hearing the news, the police have launched an investigation into the matter including making contacts with some of his close friends and family members and all of them claim not to have knowledge of his whereabouts or the alleged incident.
A team has visited the house of Shatta Wale and he cannot be found there.
Over the last few hours, the Police have searched and continue to look for Shatta Wale at hospitals in Accra.
Whilst we continue our investigations, the Police is appealing to the public to provide any information concerning the whereabouts of Shatta Wale to the numbers 18555, 191 and 0302773906