Popular singer, Harrysong has responded to a fan who said K-cee has not been singing "good music" since they parted ways in 2017.
Recall that Harrysong was signed to Five-star music, a record label owned by KCee and his billionaire brother, E-money. He was the song-writer behind some of KCee's hit songs – Limpopo', 'Pull over' and 'Turn by turn'.
However, he fell out with the company in 2017 over 'lack of appreciation' but he has since started his own record label.
Well, Harrysong held a Question and Answer session on his Instagram page recently and a fan told him to advise Kcee to release better songs.
"Please advice k-cee to sing good music because since you leave him, only God knows what he is singing", the fan wrote.
Responding, Harrysong said Kcee is "trying" with his songs and he simply needs a little encouragement.
"He's trying. It's not easy. Everyone deserves a little encouragement. It's all love from this side", he wrote.
See below,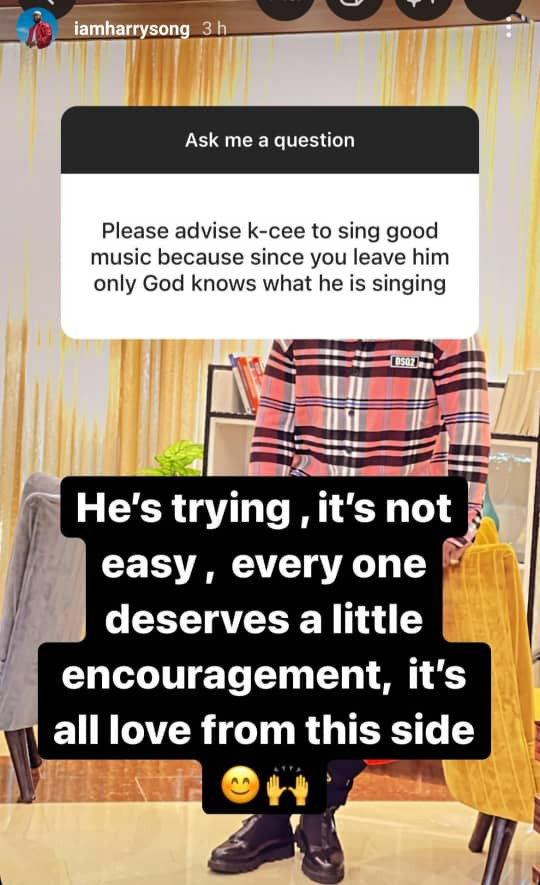 "He is trying" — Singer, Harrysong replies fan who said K-Cee has not been singing "good music" since he left him
---
KCee, Harrysong, K-Cee songs, Kcee biography, Kcee brother, Harrysong album download, Harrysong music, E-Money, E-Money net worth, Harrysong net worth, Kcee net worth
---
Do you know you can make money from this site? Just by reading news, Sharing content, Commenting, posting and more…
Kindly Hit The WhatsApp button below for more information and how to process your registration.
Click to WhatsApp
Click to WhatsApp
---