New details have emerged on how actress and mum of twin boys, Funke Akindele was healed in a Celestial Church of Christ (CCC) parish after fainting in boarding school years ago.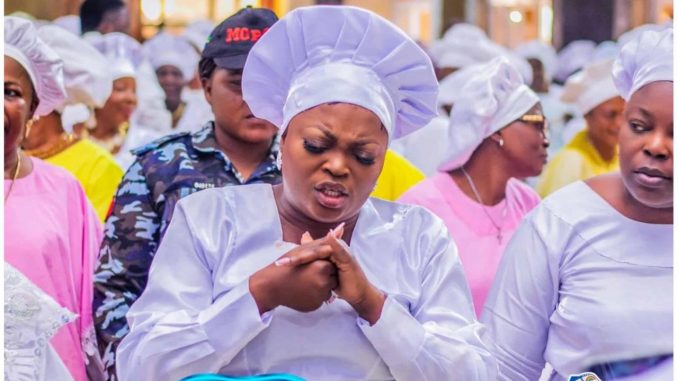 One Kunle Hamilton, a former editor with ThisDay newspapers, via Facebook, narrated how made the recollection in a Facebook post on Tuesday, two days after the actress announced her return to the church.
Kemi Filani reports that this is coming after Funke Akindele visited the CCC SBJ Cathedral and CCC Wonderland Cathedral both in Alimosho, Lagos on Sunday for her 45th birthday thanksgiving and to seek support from the church in her quest to become deputy governor of the state in 2023.
Speaking in one of the parishes, the Peoples Democratic Party (PDP) deputy governorship candidate said "I was born and raised in Celestial. My situation was like that of a lost sheep that God calls back home."
Reacting to the criticism that trailed Funke's return to the church, Hamilton, an elder in the CCC, said he has known the Akindeles for almost 30 years and feels obliged to commend Funke for coming out boldly to call herself a Celestian.
"Funke Akindele has been a Celestian for over 36 years. Her youngest sibling, Mariah Abimbola Akindele aka 'Mama' was born and christened in the CCC, and she remains extremely passionate about her faith.
"The Akindeles joined the CCC at Agiliti Parish 1 under Prophet Adekoya and spent a lot of time in church.
"At different times, they all attended CCC Ibukunolu Parish, Ketu-Alapere under Shepherd Oyelakin, CCC Ojodu Parish on Aina Street and CCC Olusosun Parish, Ojota as their family home addresses changed."
On the fainting incident, the founding editor of ThisDay's Glitterati said, "There was a time Funke was seriously ill in boarding school. She fainted and was rushed to Olusosun Parish where she was miraculously healed by God."
Although the actress had publicly identified with the Mountain of Fire and Miracles Ministries (MFM) in recent years, Hamilton continued: "Funke's late dad and her mom who is very much alive and who rose to the rank of SSES, were Celestians for many years. Her father later joined the Methodist Church but gave his blessings for the rest of his family to worship in CCC."
How Celestial Church healed Funke Akindele after fainting in boarding school
---
odunlade adekola net worth, toyin abraham net worth, omotola jalade ekeinde net worth, ini edo net worth, genevieve nnaji net worth, odunlade adekola and funke akindele net worth, funke akindele net worth 2022, funke akindele net worth in naira,
---
Do you know you can make money from this site? Just by reading news, Sharing content, Commenting, posting and more…
Kindly Hit The WhatsApp button below for more information and how to process your registration.
Click to WhatsApp
Click to WhatsApp
---