In connection with the subject of domestic violence that has become a topical discourse online following the sad demise of singer Osinachi Nwachukwu who was brutally violated by her husband has prompted other women to share their stories to warn other women too.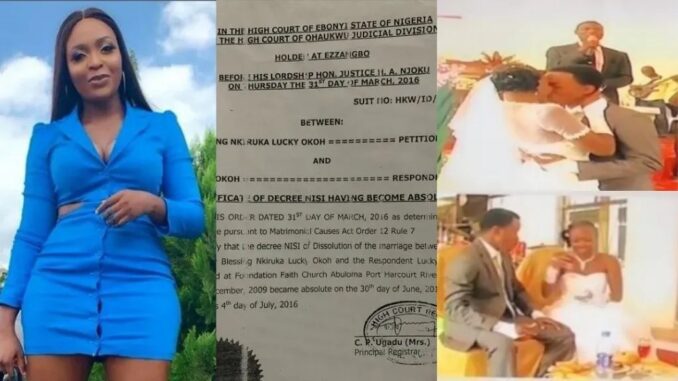 The latest person to share her story is a $ex therapist and relationship expert Blessing Okoro, who prefers to be called Blessing CEO sometimes.
Blessing shared details of how she got married at a relatively tender age of 21 which was fraught with excruciating trauma and after five years, she ran to the court to annul the marriage. She further dropped documents showing when her divorce was annulled in a high court.
She posted;
"So funny how I feel absolutely nothing watching this video Lucky it feels good to write about you again after 12 years .. 2009 5th December. It's been 12 years of my divorce.
You might be wondering why I am posting this after a long long time, i am posting because I want to show you how the men who hit women look like, they don't always look like osinachis husband, they come in different package .
Can you believe this innocent guy was the one I talked about for years now, yes he is the famous ex that took away my youth at 15 years and abused me.
@josie_de_xii witnessed the beating a day to my wedding this day, he beat me in front of everybody.
My kid sister @da_yan0 witnessed the day he beat me to coma, 2 weeks after our wedding, he was beating my lifeless body .My sister still have that fear till now .
I heard he is married and still hitting his current wife, anyways that is her decision . Domestic violence is not a joke,this man here abused me to the point that I divorced him at 21 and I feel I did not punish him enough. I am posting this for him to reply me or say jack let me sue him for abuse and molestation .
For 5 years you have not paid one kobo on your sons head, I needed people who know you to know You are that ex .
Lucky I now have a voice, you knew I was going to be big and that was your greatest fear, but I am ?.
The death of osinachi brought back the rage and anger. Anyways it's all over now and I am free .
PS ,, see me smiling like goat but you no go know say them slap me that morning and a night to this morning
What did you do blessingceo that made this cute man beat you up, nothing, absolutely noting he just love the innocent vulnerable little gal. He was 13 years older than me oooo."
She shared the divorce papers and wrote;
"What divorce paper looks like .
Divorce is expensive in Nigeria oo.
Women save, be independent.
Finally divorced him officially
2016 after 5 years or war.
I dragged him to my home town Ebonyi state , fear no gree am match foot because him know say him don shit fir church .
Which police station him no carry me go, then Social media was still coming up. This man dragged me.
I drag am go inspector general of police ?, he was shocked when I arrested him from ph to Calabar.
Kia but I won and got my son back .
My son had already told me 3 days after he came back that his daddy use to beat him other mummy ?. Oga don remarry dey beat him other wife .So I was not the problem it was just his pattern."
I Got Divorced At 21 Because he took away my youth at 15 years, beat me to coma" – Blessing CEO
---
blessing okoro marriage, blessing okoro nkiruka, official blessing ceo tiktok, blessing ceo dating site, blessing ceo fake house, blessing okoro youtube channel, download blessing ceo videos, blessing ceo latest video,