Funke Akindele, a former actress in Nollywood and a Peoples Democratic Party (PDP) candidate for deputy governor of Lagos state, has disclosed that she was raised in the Celestial Church of Christ (CCC).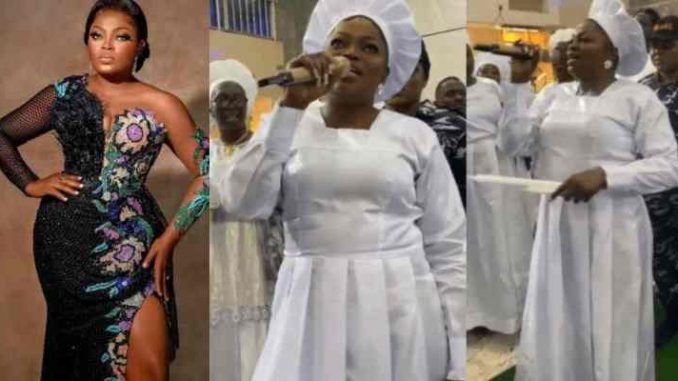 The statement was made by the honorable director when she asked the church's clergy to pray for her when she began her political campaign.
In a clip shared on social media, on Sunday, by CCC Wonderland Parish, Funke said she was born and raised in CCC, adding that her case could be likened to a lost sheep who has returned home.
"I was born and raised in Celestial. My situation was like that of a lost sheep that God calls back home," she said.
Speaking in both English and Yoruba languages and donning the church's white garment called 'sutana', said she had always come back to the church in secret for solutions to challenges.
The 45-year-old Actress added that she would, henceforth, associate with the Church publicly, a statement which was greeted by the cheering congregation.
Akindele said,
"Whenever I had challenges in my life, I usually ran back to Celestial Church but secretly. And I would see that I got breakthroughs, but right now I said enough is enough. I've stop hiding. I have to be identified with the church publicly
And I want to beg you, be praying for Funke Akindele. Every day you're praying, remember Funke Akindele and everything that belongs to Funke Akindele. That whatever Funke Akindele does should turn to success, and wherever Funke Akindele steps on should be gotten for her."
 I Wont Hide Anymore – Funke Akindele says seeks support from white garment church
---
funke akindele twins, funke akindele children, funke akindele husband, funke akindele net worth, funke akindele age, funke akindele house, funke akindele twins photos, funke akindele movies,
---
Do you know you can make money from this site? Just by reading news, Sharing content, Commenting, posting and more…
Kindly Hit The WhatsApp button below for more information and how to process your registration.
Click to WhatsApp
Click to WhatsApp
---