– Efforts to nail Ibrahim Magu over alleged corruption have been heightened – DSS has collaborated with CCB to unravel more corruption allegation against the embattled EFCC boss – The secret security service has reportedly obtained the asset declaration form filled by Magu As the corruption allegation against Ibrahim Magu takes a new course, Department of the State Security (DSS) has reportedly shifted probe to the Code of Conduct Bureau (CCB). According to emerging reports, the secret police is seeking access into the asset declaration form filled by the embattled chairman of the Economic and Financial Crimes Commission (EFCC). It would be recalled that the suspended anti-corruption czar was grilled on Monday, July 6, though DSS said he was not arrested but only invited for interrogation.
Magu, who later spent ten days in detention, was catechised over allegations bordering on insubordination and corruption following a recent memo by Abubakar Malami, the minister for justice and attorney-general of the federation, indicting the suspended EFCC boss. Among top charges, Presidential Committee on Audit of Recovered Assets (PCARA) is probing Magu for illegally buying properties in Dubai and diverting recovered funds into his pocket.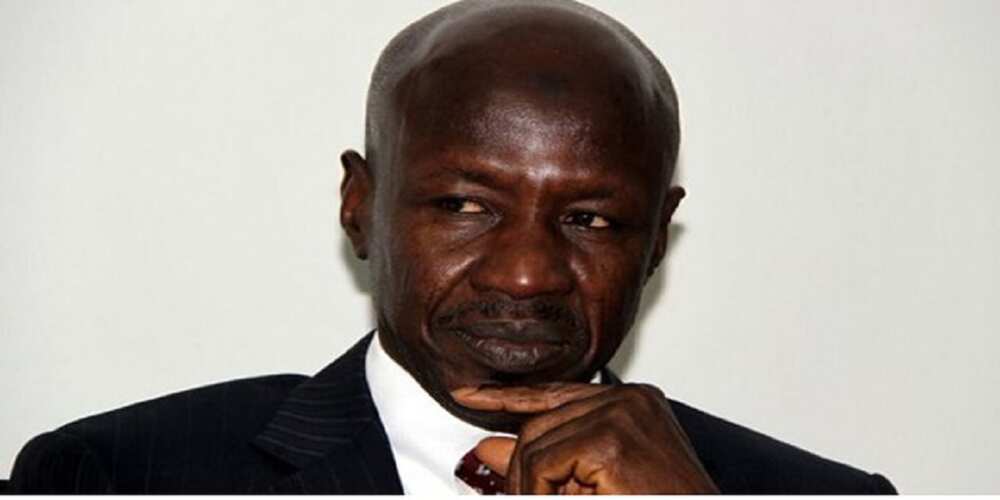 On Wednesday, July 22, the suspended EFCC boss opened defence against the Malami allegations as he fights back through his lawyer Wahab Shittu. DSS has now sought for joint investigation on Magu by requesting the asset declaration form of the embattled anti-corruption agency's boss. "The DSS approached the CCB for collaboration on the Asset Form. It said it was in respect to the information it shared with the Bureau. "So, whatever CCB is doing is at the instance of the DSS. The security agency sought for a joint investigation with the bureau. CCB is already cooperating with the agency," a highly placed source said.
Ibrahim Magu has challenged Malami to prove evidence of the allegations levelled against him. Responding to a query by the retired justice Ayo Salami-led presidential panel probe, Magu said the accusations against him were bare-faced lies that cannot be proved. "This false allegation is most unfortunate, spiteful, malicious and intended to cruelly destroy my hard-earned reputation," Magu said.