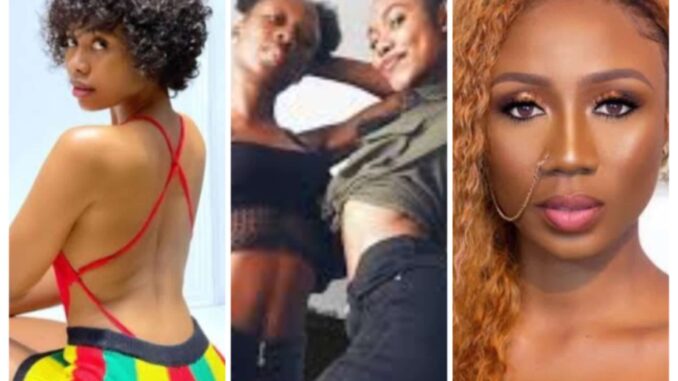 Jane Mena has gotten into trouble again after a private chat between dancer Korra Obidi and one of her alleged numerous $ex partners leaked online hours ago.
From the chats, the two influential dancers have been allegedly having an affair with the same man.
Controversial blogger, Cutie Julls exposed the private chats where Korra Obidi, who is still legally married though separated, was seen having conversation with a man about getting intimate.
It is also alleged that Korra Obidi was pregnant with her second child during the exchange.
From the chats, one can decipher that it wasn't the lovers first time of getting intimate as the man gushed over her $exual prowess.
Jane Mena, who was once accused of sleeping with Tonto Dikeh's ex lover, Prince Kpokpogri was also dragged into the mud as the man stated that he wanted a threesome with Korra and Jane.
News recalls Korra Obidi admitted to cheating with her husband.
A leaked chat between the ex couple surfaced online where it is confirmed that Korra Obidi cheated on her husband with Lebanese Nigerian based businessman, Joe who is the boss of Ciroc Nigeria.
Korra Obidi had slammed her husband for constantly using the affair against her when he had claimed he had forgiven her.
She also berated him for using demeaning words for her in front of their kids.
Justin replied her and stated that he was hurt hence the reason why he uses such words.
According to him, he was hurt with the divorce and at such he said words to hurt her which doesn't mean he is a narcissist.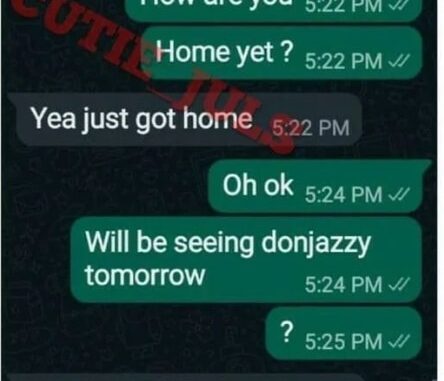 Jane Mena's private chat of Korra and 'their' alleged 'side dude' leaks online
---
korra obidi wikipedia, korra obidi wedding pictures, korra obidi net worth, korra obidi daughter, korra obidi wedding video, korra obidi father, korra obidi pregnancy, jane mena husband, jane mena instagram, janemena dancer, pictures of jane mena, janemena age, janemena net worth, jane mena wikipedia, janemena husband biography,
---
Do you know you can make money from this site? Just by reading news, Sharing content, Commenting, posting and more…
Kindly Hit The WhatsApp button below for more information and how to process your registration.
Click to WhatsApp
Click to WhatsApp
---