Nigerian actress Jaiye Kuti has jokingly issued a stern warning to his colleague Jigan Baba Oja to be ready for a fight.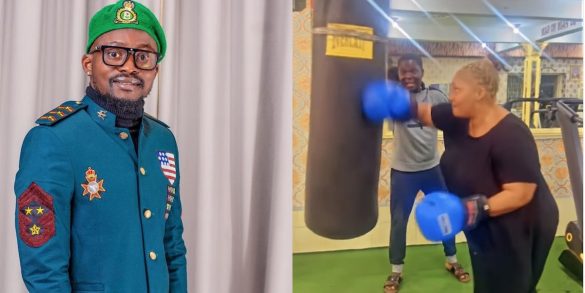 Jaiye Kuti shares a video at a boxing training center, hitting a punching bag with her full strength.
She captions the video with:
In order news…iya warisi ma na yin pa. @jiganbabaoja am coming for you. Watch out guys, @oluwale_oluwafemi instructor Isonu 😂❤️‍🩹 I'll box your brain
Reacting to this Jigan reposted the video and wrote:
Motivational speaker will only collect your money ! I will do your face wotowotooooo @jayeola_monje
And she reply:
Ma worry wa ke… you go loose not only your second leg, third leg go join 🥵🥵 ode mumu
Watch the video below:
In other news,
Nkechi Blessing, a contentious Nollywood actress, is back in the news after dropping yet another bombshell that has everyone talking.
The actress made her declaration during a live Instagram video where she participated in a conversation about marriage and whether or not it is required for a woman to get married.
However, she noted that marriage wasn't compulsory and could decide not to marry. The actress also added that with the little money that she has, she could decide to buy a man, put him in her house and control however she likes.
Her words:
No be everybody come this life say dem won marry. I can comfortably buy a man with the little change that I have, you dey hear English. I can comfortably buy a guy and put him in my house. I will say sit down there; he will stay until I tell him to m…CONTINUE READING…
Jaiye Kuti issue serious warning to Jigan babaoja
---
jaiye kuti age, jaiye kuti husband, jaiye kuti children, jaiye kuti daughter, jaiye kuti house, jaiye kuti biography, jaiye kuti date of birth, jaiye kuti age wikipedia,