Nkechi Blessing has been exposed for allegedly dating the owner of a Real Estate Company, Victor Eniola Mark, married with two children.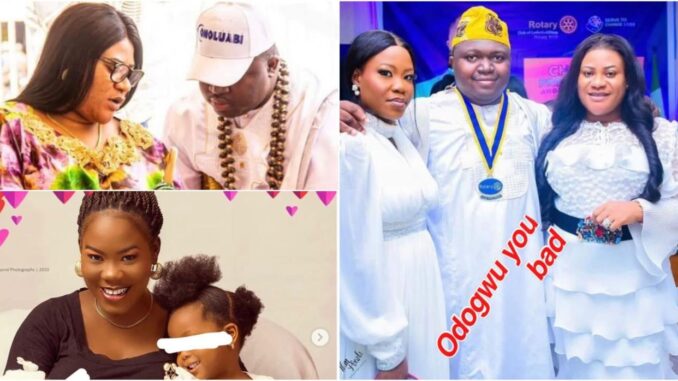 This is coming a few hours after a messy fight and breakup between Nkechi Blessing and her ex-husband Opeyemi Falegan.
Instagram blogger, Gistlovers has alleged that Nkechi Blessing, after her ambassadorial deal with the company, started having a romantic relationship with Victor Eniola Mark.
Gistlovers also alleged that Victor Eniola, a member of Jehovah's Witness, dumped his wife and children due to his affair with Nkechi Blessing.
According to the reports, Victor Eniola spoils Nkechi Blessing silly, hardly stays with his family and has resorted to staying in a hotel with her.
The post reads: Hello tueh tueh, Tales of how Victor Omoluabi forget house follow yansh oooo. Victor Eniola Mark is the owner of omoluabi holdings Real estate, he signed Nkechi Blessings some months back to influence him brand but Na another thing Nkechi go Dey influencer ooo
Mark was sacked from Splash FM Abeokuta where he was GM then. Mark is a Jehovah's Witness.
one thing led to another fiam dating enter the Matter, He started dating Omomi NBS, it got so messy that Mark's wife had to report the case to the elders of their congregation for Jehovah witness.
He hardly sleeps home, spoiling Nkechi silly, give am lands still use am do the CEO of the company, say Na publicity stunt,Nkechi begin tell everybody say him don get real estate company not minding the wife who Dey with oga when noting Dey, not feeling for the wife, after the wife reported the matter to the elders thy tried to weigh in but it didn't work.
Omoluabi lie for him wife say nothing Dey happen whereas mewa nsele, Na so the use style style bvlly the woman into silence and baba talk say she no want hear the woman mention the matter again if she want save her home.
Madam go Dey call oga, he no go come house, e do follow yansh waka, He stays more at conference hotel Oke Mosan. He is in Conference Hotel 24/7, the wife got tired and gba kamu(accept fate) but one way or the other the matter wear heels shoe reach Vawulence headquarters, and una know say any matter wey don reach here must get solution in Jesus name, as the matter reach here sef them don Dey threaten the woman for house say Na she come spill am, whereas I nor even sabi the woman, as the gist take reach headquarters make una leave that one.
my own be say make All these Nollywood gehs leave Peoples home alone, let marriages built on trust and love, let them last, and the man too, Oloko giveaway, oloko piyinkin, robbing Peter to pay Paul, telling people to pay 2k for land and spread balance, Revolution plus trainee, make una Dey respect una wives and keep your prick, no turn am to giveaway begin Dey share am up and down, NOLLYWOOD GEHS, LEAVE PEOPLE HUSBAND IN JESUS NAME OOO. I come in peace. Igi ewedu oni wo pawa ooo
How Actress Nkechi Blessing made her married lover dump his wife and children
---
nkechi blessing baby father, opeyemi david falegan wife, opeyemi falegan ex wife, opeyemi david falegan age, hon opeyemi david falegan biography, opeyemi falegan net worth, hot naija gossip, 9ja blog news,
---
Do you know you can make money from this site? Just by reading news, Sharing content, Commenting, posting and more…
Kindly Hit The WhatsApp button below for more information and how to process your registration.
Click to WhatsApp
Click to WhatsApp
---