Nigerian politician and businessman, Ned Nwoko has joined the family of the Adelekes to mourn the death of their son and grandson, Ifeanyi Adeleke.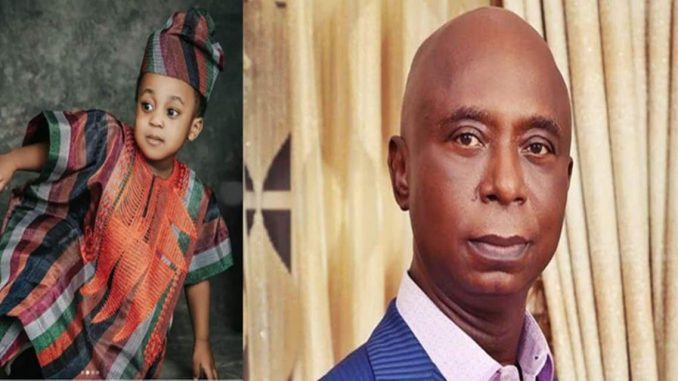 Naijabulletin news earlier reported that Ifeanyi drowned in a pool at Davido's house in Banana Island, Lagos State. The youngster was reportedly rushed to a nearby hospital after the incident, where he was confirmed dead.
Grieving over his unexpected demise, Ned Nwoko said the news of Ifeanyi's death came as a shock to him and his wife, Regina because he knows how Davido dots affectionately on his son and his wife to-be, Chioma.
And as a cherished brother/ friend, he said Davido and Chioma are close in his thoughts and have his full support in this difficult moment.
The popular businessman also prayed to God to comfort him, Chioma and indeed the rest of his family, as they bear this painful loss with courage, and fortitude.
He wrote:
'Dear Davido.
We are deeply saddened by the tragic loss of your beloved son -Ifeanyi. Regina and I received the tragic news with much shock and sadness, knowing your dotting affectionate love for your son and his mother,Chioma.
As a cherished brother/ friend, you are close in our thoughts and have our full support in this difficult moment.
May God comfort you, Chioma and indeed the rest of your family, to bear this painful loss with courage, and fortitude
Please accept our deepest sympathies as we earnestly pray for the repose of the beautiful soul of Ifeanyi.'
Regina Daniels reacts to Davido's son demise
Regina Daniels has reacted to the shocking death of Davido's only son Ifeanyi Adeleke.
Regina Daniels who is a mom of two boys, said Ifeanyi's demise has hit her differently and as a child with a bright future, God should have prevented his demise from happening. She went on to pray for strength and sanity for his family.
'Kai !!!!!! This hits different !!!!! He had a very obvious bright future ! God you should have prevented this. I pray for strength and sanity for his family 🙏 no one deserves this trauma ….No one !', she wrote.
Wizkid reacts to the death of Davido's son
Award-winning singer, Wizkid had showed his support for his colleague, Davido as he mourned the death of his first son.
It is no longer news that the first son of the singer, who he shares with his girlfriend, Chioma Rowland had passed on.
The sad news broke out on Monday night, October 31st.
As the world mourn the death of the singer's beloved son, Wizkid had showed sign of concern.
The Grammy singer, who wasn't aware of Ifeanyi's death, took to Twitter to promote his album.
The singer announced that he would be releasing his album in November.
Wizkid, deleted the tweet, minutes after he posted it, to show solidarity with Davido.
Ned Nwoko mourns demise of Davido only son
---
Ifeanyi death, ned nwoko wives, ned nwoko age, ned nwoko tribe, ned nwoko wives ages, ned nwoko 5 wives, ned nwoko wife, ned nwoko wives images, ned nwoko biography, davido son,
---
Do you know you can make money from this site? Just by reading news, Sharing content, Commenting, posting and more…
Kindly Hit The WhatsApp button below for more information and how to process your registration.
Click to WhatsApp
Click to WhatsApp
---