Nigeria Filmmaker, Jade Osiberu calls out the NPF over an unethical response
Jade Osiberu, a Nigerian writer and filmmaker, has expressed her displeasure with the callous attitude she received from a police officer after reporting a fraudulent case.
It was said that she was defrauded of the amount of N50,000 by a fictitious grocery merchant on Instagram, and that she reported the incident to the police since she had proof to support her claim.
In her statement, she alleges that the police officer she talked with advised her to drop the case because it would be more expensive to investigate the crime.
Recounting the experience on Twitter, she wrote:
"Got scammed by a fake IG grocery vendor (50k ff), never happened to me b4. Called a police contact telling him have the guy's account details so it should be an easy arrest. He said, just let it go. It'll cost more to "help/empower" the investigation. Naija is a shit hole."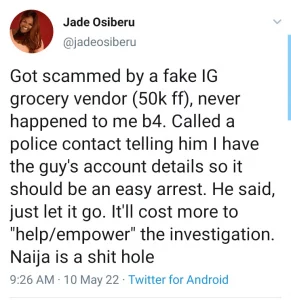 Read Also: US-based nurse speaks on Genevieve Nnaji's Present Health Condition