Nollywood actress and content creator Funke Akindele has been dragged online for putting her popular soap opera 'Jenifa's Dairy' on hold without any public notice.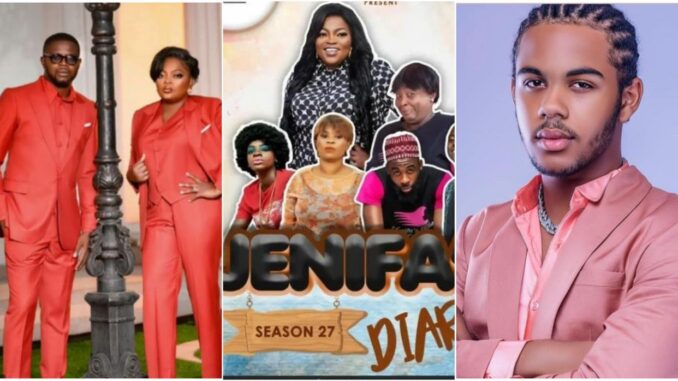 Unarguably, the past few weeks have been hard for Funke Akindele and her husband, JJC Skillz, despite acting unbothered.
First, there were reports that Funke Akindele's marriage was facing hard times to JJC Skillz being dragged by her babymama Mella and his son for physical assault.
Although Funke Akindele has remained silent over the issue, one might imagine what she is currently passing through.
Following the issue, subscribers of 'Jenifa's Dairy' have cried out that Funke Akindele suspended the TV series without any public notice.
Some Nigerians also lament paying for a one-year subscription, and there has not been any new episode of the TV series uploaded for two weeks.
official_veo_classik12 wrote: Haaaa…even me sef tire…2sundays now nothing …pls o @sceneonetv help us
hotcakeoflagos wrote: I have subscribed, always paying for subscription monthly, they didn't address it, and it's annoying and rude. They keep uploading throwback pictures no address, no press release. @[email protected]@jenifasdiary
preciousdenis9 wrote: Exactly what I was saying today , no hate, but how can one pay for subscription and you are not been served what you paid for …… before you come here to write rubbish under my comment know that IM NOT HATING ON ANYBODY…
ewatomilola_beaut wrote: It's sad I even had to pay for one year subscription.
News recalls Mella had revealed some shocking details about the marriage of Funke Akindele and her husband.
Amidst the denial and constant display of love on social media, Mella, in a chat with Instagram blogger Tosin Silverdam alleged that Funke Akindele and JJC Skillz are living in a pretentious 'happy' marriage.
Mella alleged that Funke Akindele caught her husband getting a blowjob and everything was not pleasing in their marriage, the reason JJC Skillz always stays in London.
The chat reads: The continued 'happy marriage pretence' is a lie. Funke caught him getting a blowjob. The biggest problem here is that Abdul is a long time drug user who has constantly smoked dope in front of all his children which has been a long-standing dispute between us both. These children looks up to their father and follow his example. It's been a big problem for me and his mother.
Funke Akindele suspends 'Jenifa's Diary' amidst alleged marriage crisis
---
jenifa's diary full episodes, jenifa's diary season 10, jenifa's diary 2022, where to watch jenifa's diary for free, jenifa's diary season 26, jenifa's diary season 23, jenifa's diary season 10 episode 26, jenifa's diary season 24,