Politician and philanthropist, Opeyemi Falegan has finally spoken out on his messy relationship with actress, Nkechi Blessing.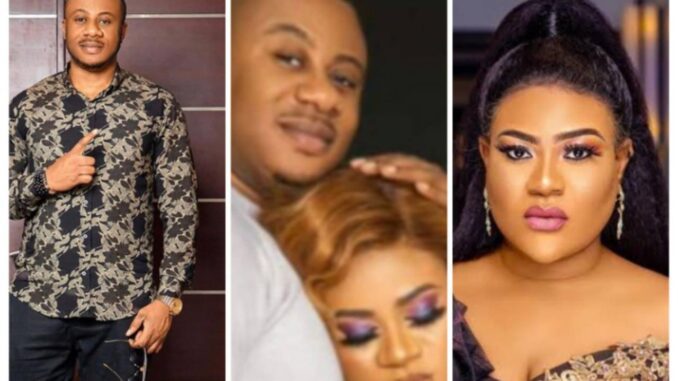 The Ekiti indigene who claimed that he would be quiting social media returned to make clarification and debunk things the actress said.
Denying the actress claim that he was broke, he stated that Nkechi had almost drained him as she came into his life for money and sex.
According to him, Nkechi had seen his philanthropic works and wanted to enjoy his money.
He said in a video with controversial actor, Uche Maduagwu,
"Mr Uche, you have called me too much. I am sorry, no disrespect, that's alot of calls tonight, you don call me too much. I know you want somethings to be clarified and it's high time I get it clarified. She came into my life for two things – money and sex. You all know I have a foundation that takes care of the widows, less privileged and all that which I started when I lost my father. I think that is part of the reason she came into my life, she knew I was a philanthropist and I do give to a lot of people within my capacity. This woman nearly drained me".
News recalls Nkechi Blessing had dragged her ex-boyfriend and politician Opeyemi Falegan amidst their messy breakup.
Taking to her Instagram story, she exposed some secrets of Opeyemi Falegan, his fake lifestyle and how he almost turned her into a beggar.
In the series of posts Nkechi Blessing opined that many people are stuck in bad relationships because of the fear of what people will say, but she can love someone and still let them go.
While urging Opeyemi Falegan to enjoy the minor fame, he got while it last, Nkechi Blessing said the politician had wanted to turn her into Instagram blogger because of his foundation and questions about who begs to help others.
Nkechi Blessing also said Opeyemi Falegan was living off older women in London, and she does not know his job, but all he does is wake up and engage on Instagram live video.
According to Nkechi Blessing, her ex, Opeyemi Falegan, is always on the DM of many of her female colleagues. She added Opeyemi always flies economy flights and poses in business class to take photos when the flight is empty.
"Nkechi Blessing came into my life for two reasons and almost drained me" Opeyemi Falegan finally shares his side of the story
---
nkechi blessing mother, nkechi blessing wedding pictures, nkechi blessing baby father, nkechi blessing marriage, nkechi blessing husband name, nkechi blessing husband instagram, opeyemi falegan,