Yoruba Nollywood actor Yomi Gold has revealed why he preferred his wife to be covered up rather than exposed.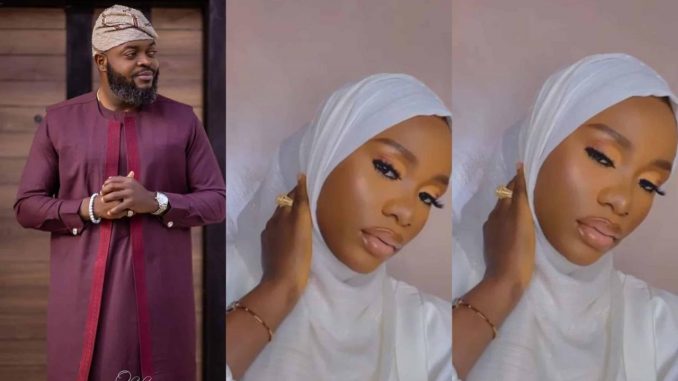 Yomi Gold shared a compiled video of his beautiful young wife on social media, stating reasons he likes her covering.
According to the actor, he prefers covering up even though he can afford the human hair.
He wrote: I prefer covering up
Not like I can't pay for the human hair o
Abi wetin una think
taibatoyetola: Covering up is the right thing, one can still slay beautifully!
Apart from religion, it's not good for a woman to expose herself, not to talk that God forbids it.
omoburlanley: We prefer both human hair and covering up
classdistrict: Either ways, Mrs Gold is Super STUNNING!!!!!! 💕💕💕💕💕
hajakaffy: May Almighty Allah reward you for doing what he ordained
ajike_of_cbe: I support abegggg
folaranmilatifat: Allah has order us to cover up and she look more beautiful in covering up
taufeeqahabideen: Looks more beautiful with the covering
News recalls that Yomi Gold secretly tied the knot with his lover in an undisclosed location with only close pals.
Yomi Gold's marriage was made public by controversial Instagram blogger,  Gist Lover, who alleged that the actor married a young lady, "the young shall grow wife".
Gist Lover shared videos and pictures from the event via its Instagram page, claiming that the wedding was done secretly with a special request of no cameras.
She wrote: Before we go leave matter talk them Naomi own, Yomi gold and him young shall grow wife do secret wedding today and them talk say no camera, but we get coconut head, congratulations ooo Saheed and your young shall grow wife too, I come in peace, igi ewedu oni wo pawa ooo.
The unidentified blogger released more videos and pictures to ascertain her claim on the actor's secret wedding. The recent videos captured friends of the actor raining the supposed bride with cash and the actor dancing with her.
Naijabulletin News also recalls that Yomi Gold's girlfriend and ex-wife, Victoria caused a stir on social media as they clashed at his 40th birthday. They took to their respective social media page to wish him on his birthday with messages staking a claim on the actor.
Actor Yomi Gold reveals why he likes his wife covered up
---
yomi gold new wife, yomi gold biography, aina gold, victoria ige, yomi gold new wife instagram, yomi gold father, yomi gold first wife, yomi gold new wife age,