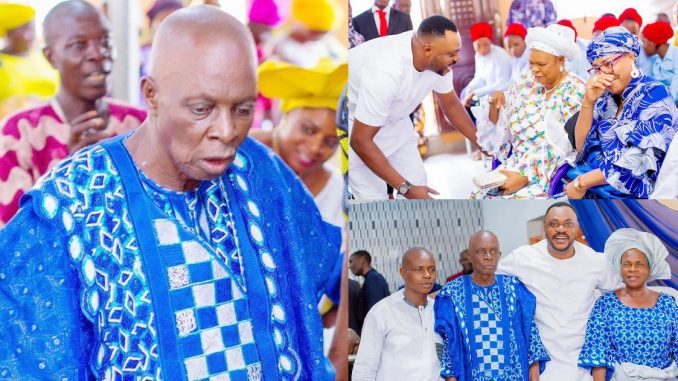 Odunlade Adekola celebrated his father, Pastor N. A Adekola as he retires from service in the city of Abeokuta.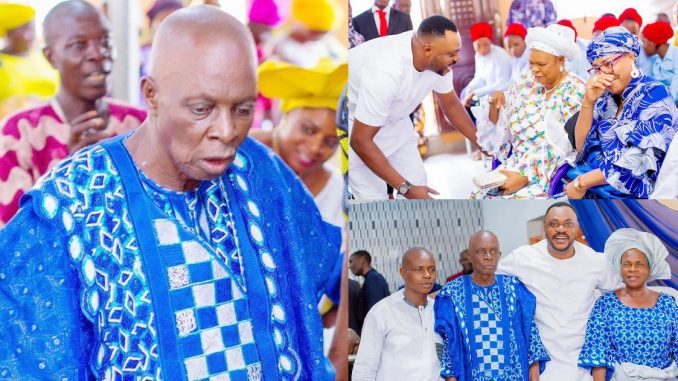 A-list celebrities, Fatia Williams, Peju Ogunmola, Femi Adebayo, and others storm the city of Abeokuta in Ogun state to celebrate their colleague father, Pastor N. A Adekola.
Odunlade Adekola shared videos from the retirement service held for his father at Christ Apostolic Church in Abeokuta Ogun state.
He wrote: RETIREMENT SERVICE FOR PASTOR N.A ADEKOLA
Glory be to God, GBOGBO WA LAMA DAGBA LAGBARA OLORUN
In another post, he wrote:
At the Retirement service for Pastor N.A ADEKOLA. Thanks for coming @official_pejuogunmola @faithiawilliams And all the children of God God will bless you all
See photos and video below:
In other news,
Hello guys! Are you searching f0r a ri ch $ugar m0mmy in Cape T0wn, S0uth Africa f0r dat!ng? Have y0u been craving to date a rich $ugar m0mmy who will sp0il y0u with gifts and m0ney, in additi0n, pr0vide y0u with all the luxury life you ever desire?
In a recent interview, the screen goddess said that acting in the movie gave her an opportunity to experience the best of both worlds, having acted in several of its stage productions nationwide.
Describing it as an exciting project, the actress said that it is indeed an honour to portray the Bride in the first-ever screen adaption of the play.
"The Bride is a symbol of sensuality, excitement and lust, especially for the Horseman who though bound by tradition to leave earth for the land of his ancestors, is distracted by his sensual desires and consequently, brings doom on his people. The film is true to its roots and a must-watch for all," she said.
She further described her experience on set as surreal, saying that it was the first time she would be acting alongside Odunlade Adekola.
"Seeing so many veterans and acclaimed acts on the same set was surreal for me. It was a very amazing experience. My character didn't have lines in the film which made it more challenging. I am glad I was able to have the presence to evoke the emotions expected of the bride," she added.
'Elesin Oba' is an adaptation of Nigeria's Nobel laureate, Wole Soyinka's acclaimed stage play, 'Death and the King's Horseman'.
Directed by 'Half of a Yellow Sun' and 'Fifty' maestro, Biyi Bandele, the screenplay will be the first ever Yoruba Language film to premiere at the Toronto International Film Festival (TIFF) Special Presentation category this September, before being mainstreamed as a first in its genre on Ne…CONTINUE READING…
Photos and videos from Actor Odunlade Adekola's father retirement party
---
odunlade adekola wife, odunlade adekola net worth, what happened to odunlade adekola, odunlade adekola second wife, odunlade adekola children, how many wife did odunlade adekola have, odunlade adekola house, odunlade adekola wife and child,
---
Do you know you can make money from this site? Just by reading news, Sharing content, Commenting, posting and more…
Kindly Hit The WhatsApp button below for more information and how to process your registration.
Click to WhatsApp
Click to WhatsApp
---