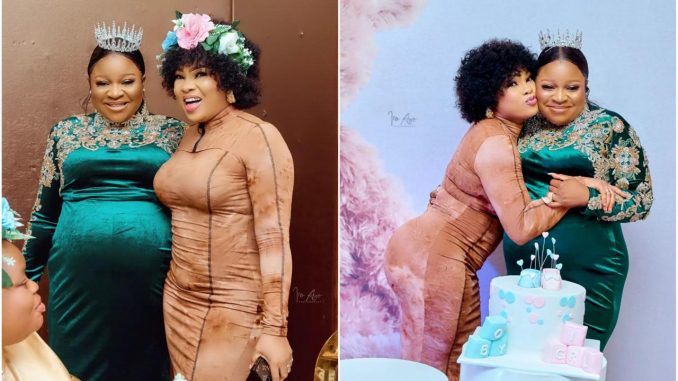 Photos and videos from the baby shower of Nollywood actress Bimbo Afolayan have surfaced online hours after the arrival of her baby girl.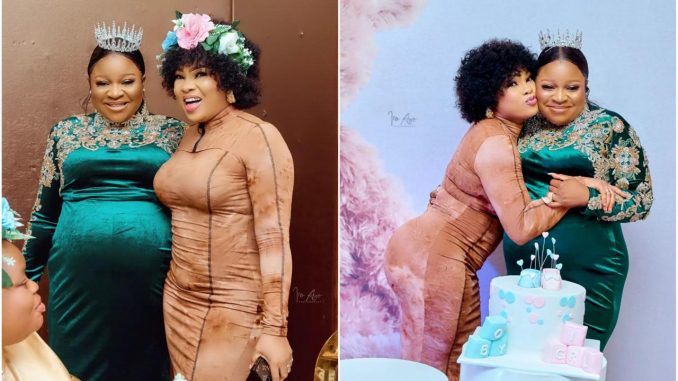 News earlier reported that Bimbo Afolayan and her husband Okiki Afolayan announced the arrival of their baby girl in the wee hours of today.
The couple penned sweet and heartfelt messages on social media to celebrate the arrival of their daughter.
Bimbo Afolayan wrote: "Thank God for shining your light on my family @okikiafolayan baby. We made it!She is here. Oh I waited! We waited! Now you are here my princess looking at you we are speechless and words fail me, we will love and cherish you forever. A big thanks to my family (the afolayans & the ogunnowos for standing by us through this 9 months with love and prayers! We are blessed!".
Following this development, photos and videos from the actress' baby shower are the talks of the internet as Nollywood stars who were present at the event shared short and beautiful clips from the ceremony.
Celebrities like Regina Chukwu, Eniola Ajao, Kemi Taofeek, Seilat and others storm Bimbo Afolayan's baby shower.
Sharing the video online, Regina Chukwu wrote: Woke up to this great news BABY AFOLAYAN IS HERE. Congratulations my darlings @bimboafolayan and @okikiafolayan
Now let's parry and merry. The lord has done us well
At last he heard our prayers and blessed us with a beautiful baby girl … congratulations to the AFOLAYAN FAMILY
Regina Chukwu, Eniola Ajao, and others storm Bimbo Afolayan's baby shower
---
bimbo afolayan before and after, okiki afolayan, bimbo afolayan husband, abimbola afolayan biography, bimbo ogunnowo hotel, bimbo afolayan wedding pictures, bimbo ogunnowo child, bimbo afolayan net worth,
---
Do you know you can make money from this site? Just by reading news, Sharing content, Commenting, posting and more…
Kindly Hit The WhatsApp button below for more information and how to process your registration.
Click to WhatsApp
Click to WhatsApp
---