It is alleged that beautiful Nollywood actress, Regina Daniels has packed out of her matrimonial home because her husband, Ned Nwoko has taken a new wife.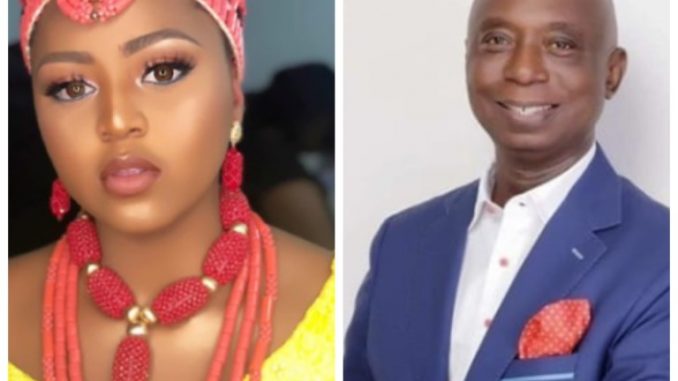 This comes months after gossipmonger Cutie julss, claimed in February that Ned Nwoko had paid the bride price of a new wife and was keeping it a secret from the public.
As a result of this report, the lawyer threatened to arrest the person who made what he considered to be a fraudulent accusation.
Despite this, Cutie julss maintained the veracity of the previous report in a recent post, alleging that Regina Daniels has been ignoring Ned Nwoko's house since she now resides with her mother in Asaba.
The blogger also said that Ned Nwoko has completed the initial step of his wedding preparations.
The post reads:
"Shey Papa Moon denied and called for Cutie's arrest.
See trust me, everything in this gist was and is true. Papa Moon, aka Pa Ned actually took the lady in question to the rally and introduced her to some of his political allieds that that's his new wife. He has met the lady's family and done the first part.
As we speak, Mama Moon has been avoiding has been avoiding Papa Moon's house o, mostly. She is always with been with her mom lately in her mom's Asaba home
I know them go come lie say Mama moom is always in Grandma Moon's house cuz of pregnancy, Abeg, na lie o.
Even Moon that was first, she stayed 100% in her ozzband's house. No be 2nd pregnancy wey go carry am to dey her mama house all the time, biko"
See post below:
Regina Daniels Allegedly Exits Matrimonial Home Over Ned Nwoko's New Wife
---
is regina daniel still with her husband, ned nwoko wives, is chika ike married to ned nwoko, regina daniels children, regina daniels latest news today, regina daniels husband new wife,