Nollywood actress Rita Daniels has expressed excitement as she arrives in Nigeria with her daughter, Regina Daniels.
The veteran has been in Jordan, where her daughter welcomed her second child, a baby boy.
News reported on June 29 that Regina Daniels had welcomed her second child in Amman, Jordan.
With so much joy in her heart, Regina announced the birth of her second son, who shares the same birth date as her first son, Munir Nwoko.
She noted how Moon and his younger brother would be each other's lifetime companions, partners in crime with an unbreakable bond.
"June 29th is indeed a blessed date for me and my family… With so much joy in my heart. I announce the birth of my second son. Moon and younger brother are definitely gonna be each other's lifetime companions, partners in crime with an unbreakable bond in Jesus' name coupled with the fact that they share the same birthday… I am so blessed. You got your best gift and I'm so happy you get very excited when you see babies".
For nearly two months, Rita Daniels has been in Jordan, supporting the new mum of two.
Taking to Instagram, Rita shared photos of her and the newborn on the stairs of private joy.
She expressed her gratitude to God for a safe and successful trip.
"Thank God for safety and success trip back home with prince khalifa @princekhalifanwoko @regina.daniels".
news recalls Regina Daniels Nwoko couldn't hide her excitement as she reunited with her husband and his kids.
The actress in Jordan with her mum was delighted as her husband and kids, whom he shares with his other wives, visited her.
Sharing videos on her Instagram, Regina Daniels beamed with joy as the kids bonded with their new brother.
Regina Daniels captioned the video with, "My babies are here".
"Amir cries when he holds babies".
Regina Daniels also showed off the letter one of her husband's daughters wrote to her.
The letter reads, "I love you Aunty Regina and I am coming to see you".
News also recalls that weeks after birthing her second child, Regina Daniels had shared moments from her newborn's naming ceremony.
In a post on her Instagram page, the proud mom and actress shared her son's new name and released a video that captured his naming ceremony, which her family and friends graced.
'The gathering of family and friends for the naming of our newborn baby
Prince Khalifa Chimka Nwaorah Ned Nwoko @princekhalifanwoko'. she captioned the video.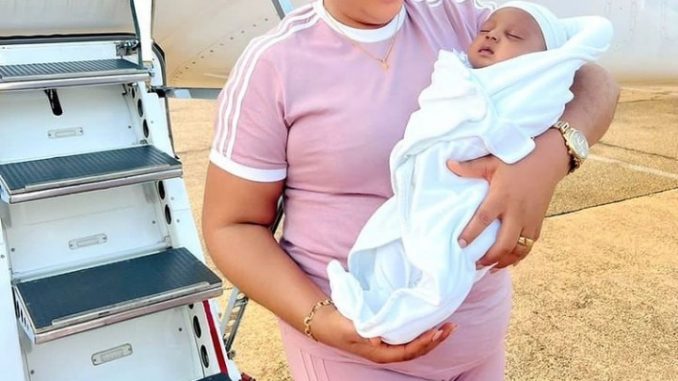 Rita Daniels rejoices on arrival in Nigeria after almost 2months in Jordan
---
rita daniels children, rita daniel husband, regina daniel mother new husband, regina daniels children, is regina daniels mother an actress, regina daniel mother picture, regina daniel mother age, regina daniels mother movies, open my whatsapp, whatsapp update download, whatsapp messenger, whatsapp download, whatsapp update, whatsapp business, new whatsapp,