After staying silent for weeks about his alleged romance with two of Rita Dominic's best friends whose names begin with the letters U and I, media mogul, Fidelis Anoisike has finally broken the silence with a photo of himself and his wife laughing out loud.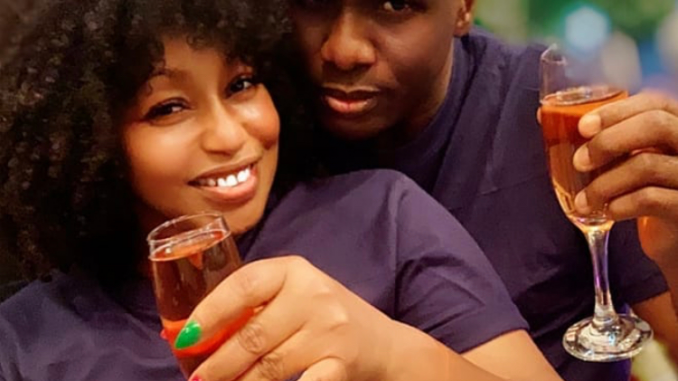 The intoxicated newlyweds looked into one other's eyes with glee, implying that they were laughing at the rumors and not being moved.
Many of Rita Dominic's admirers have expressed their excitement by sending prayers to the couple.
One Nkechuwu wrote "God bless you two, together, forever. I can't love you guys less."
One Priscilla wrote "So beautiful, Oh I am so happy seeing this "
One Amaka wrote "This smile will never cease forever Amen"
One Gold wrote, "God has given you a priceless gift sir, cherish her with all your being and avoid every form of distraction and see more of God's blessings."
One AMadi wrote "I see are satisfaction, joy and contentment. God bless you both"
One Emma wrote " love is suweet when you're with the right partner. May Gods blessings remain with your home sir"
See post below;
Meanwhile, Big Brother Naija star, Kathrina Jones, simply known as Ka3na has announced her candidacy for president in 2023 on the platform of the All Progressives Congress (APC).
Ka3na announced the news on her verified Instagram account on Wednesday, May 25.
However it's uncertain whether she's committed to running in the election, her campaign posters have continued to saturate Nigeria's social media arena.
On her Instagram channel, she captioned: "The cat is out of the bag. Abuja. Ka3na for Presidency. President of Nigeria."
One of her followers @Jack Mali wrote: "Common boss lady, you have a huge fan base to give it a shot."
See her post below;
Rita Dominic's Fans Pray As Husband, Fidelis Anosike Reacts To Their Alleged Marital Crisis
---
fidelis anosike ex wife, rita dominic age, fidelis anosike age, rita dominic,