Nollywood actor and filmmaker Yomi Fabiyi had reacted to his babymama, Grace Jimoh's allegations.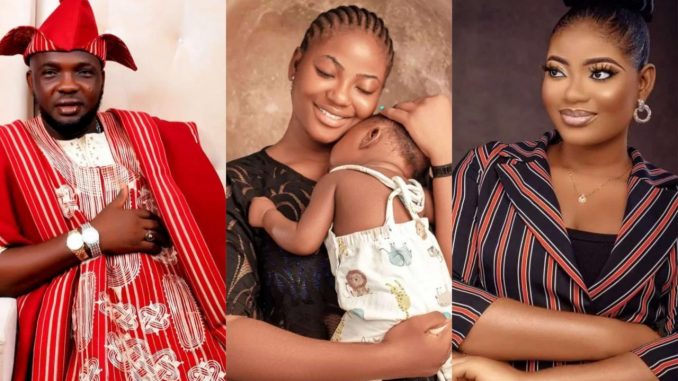 KFN reported that Grace Jimoh had resumed dragging him on social media.
The mum of one was back at it again as she exposed the inhumane thing he did to her.
The upcoming actress, who travelled to the East to visit her family, revealed that he had packed the furniture and gadgets when she returned to the apartment she once shared with the actor.
Grace claimed that the actor took away her generator, leaving her and their child in the dark.
She noted how Yomi pressured her to sell off her household items during their love days.
"I had to travel to Imo so everything can be calm and so I can have people around which you messaged and ask if have moved to Imo, but I told you no, that I went go Imo so everything will be calm and died down, Yomi, after all I told you, you still came and pack every damn thing we already shared, and you later came to pack the share you gave us, we sleep in the dark if there is no light, I can't cook if there is no light because I bought hot plate that I am using, even the phone you gave me as a gift when I gave birth, you took it, and I already gave out the old phones I was using. You were still the one that ask me to dash out or sell my properties I was using in school, including gen and some other things".
In an earlier post, Grace had revealed that she was suffering from depression.
She debunked the actor's report that she was used as a set up and the pregnancy was planned and orchestrated.
Grace slammed the actor for not caring about her mental health.
Debunking her allegations, Yomi Fabiyi slammed her for playing the gender card to gain public sympathy and financial aid at the expense of his career and mental health.
According to him, choosing between evil, wickedness, violence, blackmail or peace, love, respect, or humility has nothing.
Sharing a video of Grace in labour, Yomi Fabiyi questioned if she looked beaten or maltreated.
Yomi added that he gave Grace all the respect, dignity and care any woman carrying one's child should get, yet she chose to criminally defame him that he beat her to a stupor that led to forced labour.
"Evil, wickedness, violence, blackmail OR the opposite, peace, love, respect, humility has nothing to do with AGE.
This is me showing utmost support and angelic care in the LABOUR ROOM as expected in a saner cline. Can every honest mother or medical inclined say for sure that the person here in gradual labour looks like she was beaten TO STUPOR few hours or days before this moment? What if this evidence does not exist? See major newspapers and blogs posting rubbish. No more ethics and professionals in these institutions again. Quest for content or PULL HIM DOWN BY ALL MEANS SYNDROME. Some of them lack dignity and conscience.
She criminally DEFAMED me that I beat her to stupor that led to FORCE LABOUR just to DEMONISE and PAINT ME BLACK, knowing fully well some of you are RECKLESS in judgment because it is social media.
Playing gender card to gain public sympathy, financial aids at the expense of my career and mental health is PURE EVIL AND WICKEDNESS. You all expect me to commit suicide or go violent with her, shame on you, I was not raised that way.
Trust me, she is on the verge of using her fingers and phone pads to bring some troubles if she does not desist from invading into my privacy and dragging me with cheap lies, blackmail and concoctions capable of dragging me into REAL DEPRESSION. We are NOT married. I gave Grace every respect, dignity and care any woman carrying ones child should get, if not for her VIOLENCE and EXTREME DESPERACY, maybe…..
I am NOT ready to DIE for anybody in silence. If I am stretched, I turn and prove my sterner tough. I have NEVER and will NEVER TOUCH my PARTNER or SPOUSE. Stay out of my business and let us raise this child in peace. Wa to te oh. PEACE OUT".
Kemi Filani news recalls Yomi Fabiyi had spoken out on the alleged marital crisis between him and his babymama, Grace Fabiyi.
Yomi Fabiyi questioned how a faceless and criminal blogger could give his babymama, who he described as a violent, blackmailer, and pathetic liar, the audience to trash him.
He claimed that he gave her full honour, respect and support as the mother of his child.
Yomi Fabiyi added that he was only married once, and his marriage lasted 10 years.
Indirectly, the actor was insinuating that he was never married to Grace.
"Should one stupid, coward, faceless quack, criminal blogger, who defy's every lawful ethics gives a VIOLENT, blackmailer and pathetic liar audience bother me? I gave full honour, respect & support a woman who birth 4 me deserves. I have only been MARRIED ONCE and it lasted 10yrs".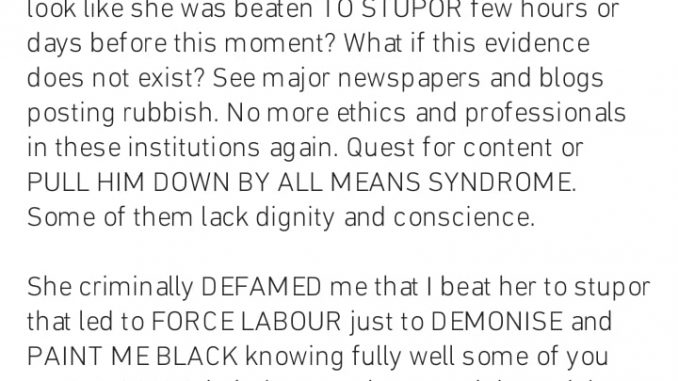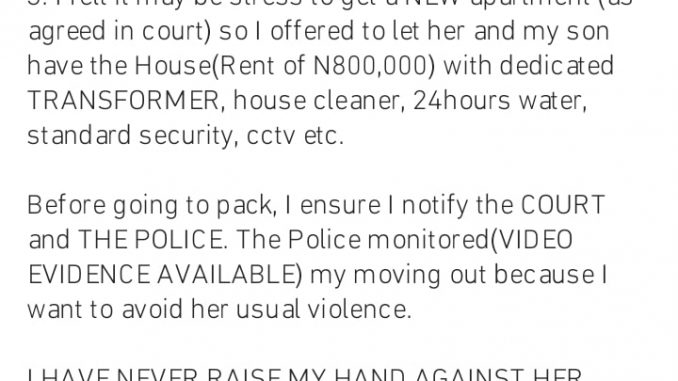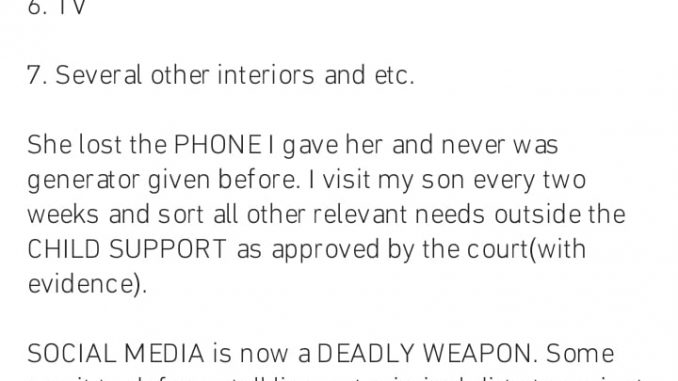 Yomi Fabiyi fires back at his babymama with proofs
---
yomi fabiyi age, yomi fabiyi wife, yomi fabiyi family, yomi fabiyi biography wikipedia, yomi fabiyi instagram, yomi fabiyi father, yomi fabiyi naming ceremony, yomi fabiyi house,