Ross Fahad Isabor, the ex-husband of Hauwa Saidu Mohammed, better known as Jaruma has dragged the Kayanmata seller while confirming their split.
Taking to Instagram, Fahad noted that he has broken up with Jaruma. He warned her to stop fooling her gullible followers as he is only in contact with her because of their son.
He went on to tell Jaruma to stop using him as a medium to sell her fake aphrodisiac products. According to him, Jaruma's charm doesn't and has never worked.
See screenshots below: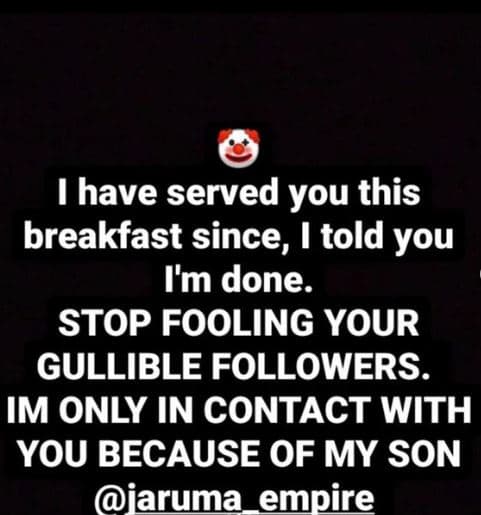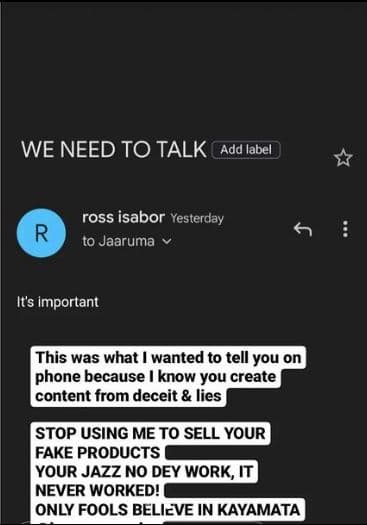 Recall that news about their divorce made rounds after photos of Fahad's alleged new girlfriend surfaced some weeks back
"Stop using me to sell your fake products, I've served you breakfast" – Jaruma's ex-husband drags her
---
jaruma kayamata, jaruma husband, jaruma divorce, jaruma net worth, jaruma products, jaruma products and prices, jaruma empire, jaruma husband divorce,
---
Do you know you can make money from this site? Just by reading news, Sharing content, Commenting, posting and more…
Kindly Hit The WhatsApp button below for more information and how to process your registration.
Click to WhatsApp
Click to WhatsApp
---