Destiny Etiko wowed many of her fans after sharing a video of an aged woman passionately praying for her.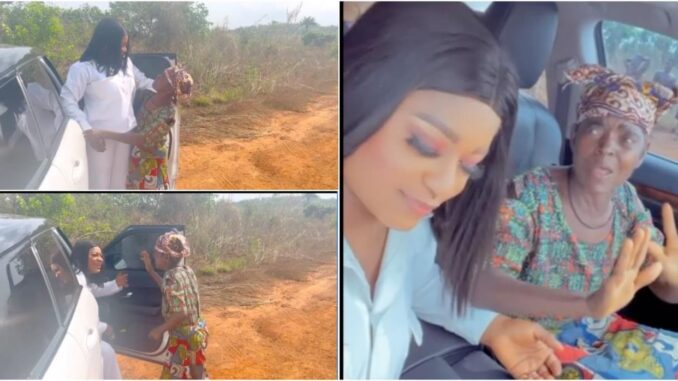 In the video, Destiny Etiko was captured with the aged woman who was excited about seeing the actress as she hugged her.
The older woman also heaped prayers on Destiny Etiko, and she responded amen, adding that the woman always makes her happy.
She wrote: This woman always makes me happy. I SAY A BIG AMEN TO ALL YOUR PRAYERS. BLESS U MAMA.
Some Nollywood stars and fans reacted to the video, pointing out how the older woman was excited to see Destiny Etiko.
adakarl1 wrote: Awww…… there's always that cute Granny dt cheer for us
mercyudeh45gm wrote: D video got me so emotional.God's blessings always to the drama doll worldwide
emekaamakeze wrote: This is pure love, joy and blissful. What a vibe to go through days.
ndubuisiignatius88 wrote: That her prayers don't take it for granted it really works, I'm talking out of experience, more grace for you though
News recalls Destiny Etiko recounted her tough childhood experiences and how her mother influenced her decision to join the movie industry.
In an interview with Saturday Beats, Destiny Etiko said her father was a headmaster doing well and later joined a firm as treasurer where he was accused of theft.
According to Destiny Etiko, her father was asked to deposit money in a bank, but armed robbers attacked him on his way, and he was made to pay for the money.
Destiny Etiko added that the incident led to the family's financial challenge as her mother stopped acting. As a result, the family lived off the procced from her mother's shop.
Reactions as an aged woman prays passionately for Actress Destiny Etiko
---
who is destiny etiko husband, is destiny etiko still alive, destiny etiko child and husband, actress destiny etiko pictures, destiny etiko child photo, destiny etiko sister, destiny etiko accident, who is destiny etiko mother,