A content creator took to the streets to ask some ladies the reason why they ended things with their ex-boyfriends and the responses two ladies gave have left netizens surprised.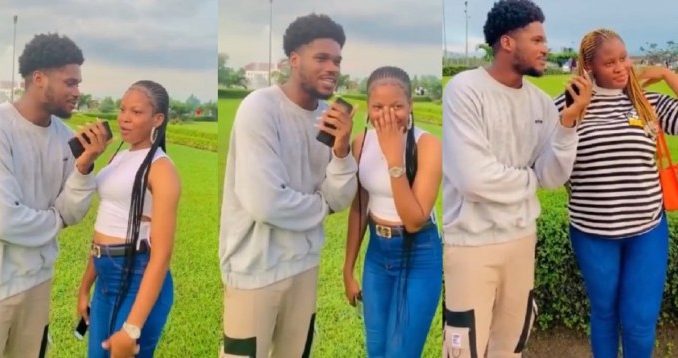 When one lady was asked what her reason was, she first was reluctant to share the details as she revealed that it was complicated, however, when her interviewer pressed her for the main reason, she revealed that it was because her ex-boyfriend chose to become a fraudster AKA Yahoo Boy.
According to her, she had to leave him because she did not want to become another victim of the infamous "Yahoo Plus".
Another lady who was asked the same question, revealed that the reason why she left her ex-boyfriend was because she discovered that he cheated on her with her friend.
Watch the video as you scroll,
In other news,
Popular Nigerian singer, Mr.Eazi, and his fiancée, billionaire heiress, Temi Otedola, have hinted that they will be tying the knot in an intimate ceremony with few witnesses.
The love birds who recently announced their engagement made this revelation in a podcast speaking about their engagement and preparation for their wedding.
The 'Oh My Gawd' crooner stated that he would love to have only close family members attend their wedding, and his future wife-to-be agreed, noting that she, too, would prefer an intimate wedding because she is a very private person.
According to Temi, if it were up to her, she would only have ten people at their wedding. READ MORE
Ladies give reasons why they ended things with their ex-boyfriends
---
ex boyfriends movie, ex boyfriend meaning, kylie jenner ex boyfriends, 3 ex boyfriends describe rachel, kendall jenner ex boyfriends, the ex boyfriends collect them all, kardashian ex boyfriends,
---
Do you know you can make money from this site? Just by reading news, Sharing content, Commenting, posting and more…
Kindly Hit The WhatsApp button below for more information and how to process your registration.
Click to WhatsApp
Click to WhatsApp
---