Veteran comic actor, Mr Ibu, has put his fans' minds at ease that he's recuperating after he shared a hilarious video of himself on social media.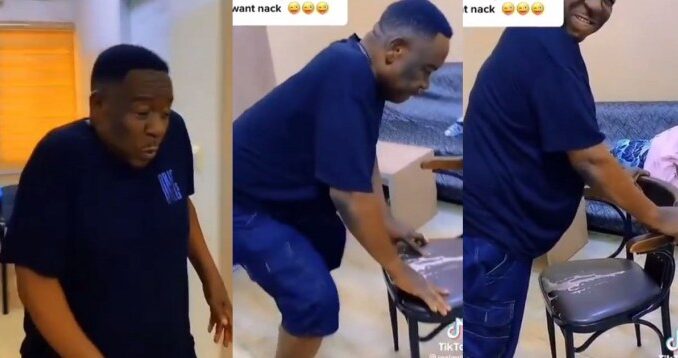 Despite being admitted to a hospital in Abuja, the comic act has continued to entertain his fans.
Recall that Mr Ibu revealed that he's currently hospitalized because he was poisoned at an event in Abuja. In an interview with Saturday Beats, the comedian disclosed that the incident occurred during an entertainment event in Abuja, the Federal Capital Territory, and that he is recovering.
Taking to his TikTok page moments ago, he shared a video of himself displaying sensual dance moves.
"I wan nack," he captioned the video.
Watch video below,
In other news, Mr. Ibu's wife, Stella, has been lauded for caring for her husband on his sick bed.
In a video that was shared online, his wife Stella Maris Okafor, is seen catering for her husband on his sick bed.
The video was shared on Mr Ibu's official TikTok page with the caption, "And the award of the best wife of the year goes to realiburess! Momma is taking good care of daddy at the hospital."
"I wan knack" – Mr Ibu says as he displays sensual dance from his hospital ward
---
mr ibu 2004, is mr ibu still alive, is mr ibu still alive 2022, tribute to mr ibu, mr ibu health, is mr ibu still alive 2022, mr ibu daughter,
---
Do you know you can make money from this site? Just by reading news, Sharing content, Commenting, posting and more…
Kindly Hit The WhatsApp button below for more information and how to process your registration.
Click to WhatsApp
Click to WhatsApp
---