The Nollywood actress known only as Bamidele Omobolanle has criticized her coworker Murphy Afolabi for reportedly making death threats against her.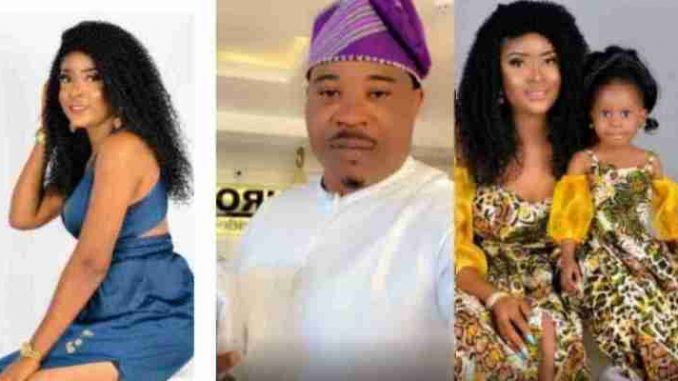 According to a claim published online, Murphy Afolabi abandoned Adesua, the child he shared with Bamidele Omobolanle.
In addition, it was claimed that Murphy Afolabi neglected to care for the aspiring actress and abandoned his daughter.
In a viral video, Bamidele Omobolanle's daughter is seen sitting helplessly as her mother posts about their plight on social media.
The actress said that Murphy Afolabi had been neglecting her and his baby for more than five years while she assumed responsibility.
When the attractive actress attempted to get in touch with the star, she claimed she was pursued with charm. She also revealed how she had been frantically racing about for
She wrote: Pls, everyone come to my rescue!!! Murphy Afolabi and his Alfa ( fellow ritualist have been threatening my life with death and bullying me into silence for 5 years now.. Let the world know am dying bcos of my child! I am tired! I am not keeping quiet anymore.
This move was after Murphy Afolabi linked up with three of his abandoned children
The actor delighted his fans with beautiful photos of himself and his three children, bonding while they geared up for the weekend.
Murphy Afolabi, who shared the photos on his verified Instagram page, claimed love is the oil that eases the friction and the cement that binds a family together.
He wrote: "In family life, love is the oil that eases friction, the cement that binds closer together, and the music that brings harmony." Happy weekend to you all, much.
Actress begs for help as she calls out Yoruba actor Murphy Afolabi for allegedly threatening her life After Abandoning Her and her Child
---
murphy afolabi wife, moyosore afolabi, murphy afolabi wife picture, murphy afolabi net worth, murphy afolabi house, murphy afolabi daughter, murphy afolabi net worth 2023, murphy afolabi net worth 2022,