Wikipedia locks Tinubu page after his age is edited 84 times..
Wikipedia editors have locked the profile page of the National leader of the All Progressives Congress (APC), Bola Tinubu, for "persistent vandalism" on the platform.
The Wikipedia page shows details of the life, education, career and personal information of the APC Chieftain.
Tinubu celebrated his birthday on March 29, 2021, and a colloquium was held to mark the day as is customary.
According to his public records, Tinubu turned 69 but his Wikipedia page initially said he was 79.
But many Nigerians believe he is older, and there have been numerous reports in the media that the Jagaban of Borgu is much older than he claims.
Following doubts about his age, numerous accounts took to Wikipedia to edit Tinubu's age from 69 to 79.
A Twitter user drew attention to the age disparity which then sparked a series of viral tweets.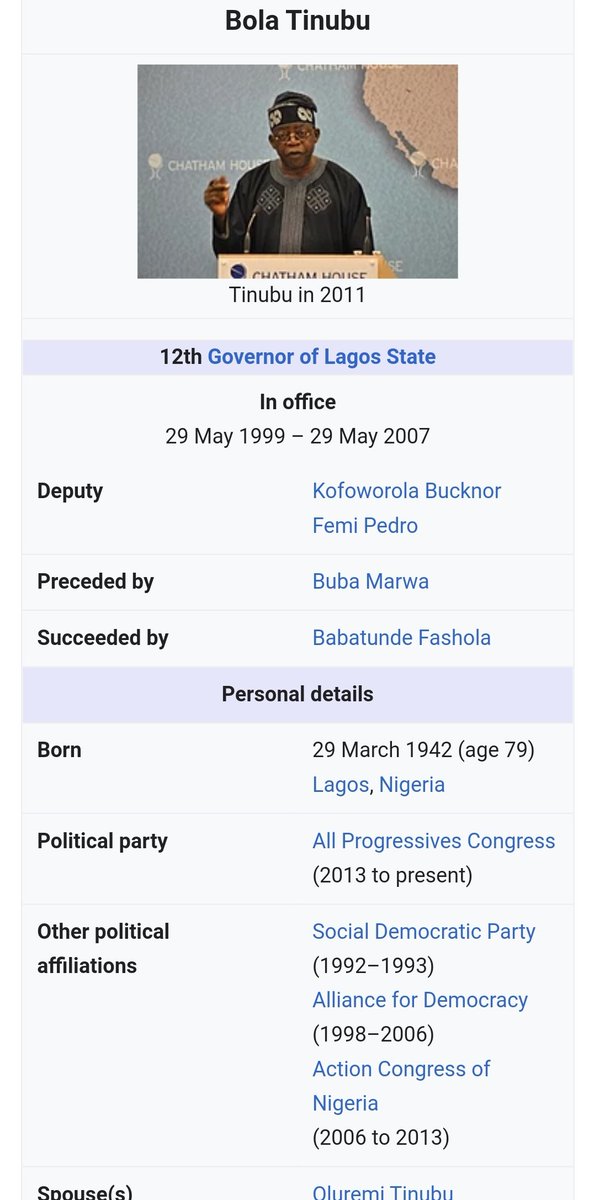 You guys forgot to change Tinubu's age on Wikipedia https://t.co/vdeb08EkX8 pic.twitter.com/I9wcT7DnW5

— CHISOM (@_PLICE) March 29, 2021
As many tweets continued to go viral about Tinubu's age, many attempts were made to correct the "error" on Wikipedia, leading to multiple conflicting edits.
According to The Cable, a close check on the activities on the page showed that there were about 84 edits done on Tinubu's birthday and most of them were to alter or correct his age.
Following these multiple attempts to change Tinubu's age on Wikipedia, some top editors working with the web platform stepped in to lock the page and make it impossible for the public to edit.
Tinubu's page now has a padlock sign as seen below: