Fresh troubles have emerged for famous online influencer Raheem Abike Halimah popularly addressed as Papaya Ex, as a controversial blogger unveil the identity of her alleged father.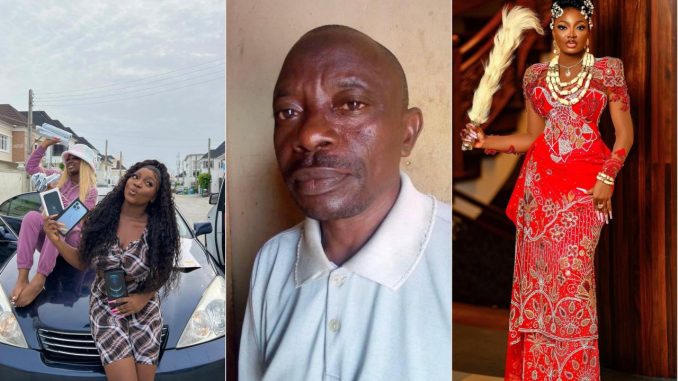 News reported that Papaya Ex was caught with her married Yahoo boyfriend, who resides in the Lekki area of Lagos.
The Ibadan-born celebrity was dragged online after controversial Gist Lover claimed that the young man married with kids has been responsible for Papaya Ex's extravagant lifestyle.
The blogger shared a video of his wife accusing him of cheating her with Papaya Ex and captioned it thus:
"…The wife don Dey hear the gist say hin husband de date papaya because na island the guy dey stay now after EFCC came looking for him in Ogun state , the wife asked the husband but husband say Na lie say papaya Na olosho wey him Dey throw herself at him.
The wife con go island without informing the husband, come catch papaya for there. The matter was messy and she and papaya had a fight wey she disgrace papaya😂😂Na so side chic papaya vex say wife disgrace am ooo, come tell the guy make him pursue him wife and pikin for Lekki that night , naso leggy( his nickname ) pursue pikin and wife with belle for that night oo…"
In later updates, Papaya Ex denied the allegations of being sponsored by a man. In addition, she disclosed details of how she moved in the circles of the elites and how she was related to the late Alaafin of Oyo.
"I was expecting a video of me on the acclaimed married man's D how does this show I'm being sponsored by a man?".
"Do you get. I'm walking down the street with a man, a lady out flash on my face, started recording then a guy came to join us, how e take realte say I dey nak person husband tori olorun".
A new update that surfaced online a few minutes ago captured the face of Papaya Ex's supposed father, who is suffering in Ibadan, Oyo State.
According to Gist Lover, Papaya Ex's mother jazzed and abandoned her husband. Although the allegations' details are unclear, Gist Lover threatened to reveal the man's personal contact details.
Read full captions below
Hello tueh tueh, otun ti zeh oooo Pikin Dey do giveaway of fake car on ig, papa Dey stay one room cubicle for ibadan, this man was doing so well before him jam Muti oyo wey Muti oyo come turn am to nothing with him jazz, him name Na engineer kola, Na papaya papa naso get him number reach out to am oo, say your pikin Dey do giveaway online with fake life knacking olosho here and there but left you in the trenches for oyo for one room to d.ie there, say we wan support am, naso baba sef talk oooo, una wan hear the voice note ??? Papaya omo werey, Obo yahoo, Obo tonasobe, i Dey come ooo, i go come analyze all your lies as leggy wife sef don Dey talk for Snapchat, but make we settle your baba matter first, make him win giveaway for Vawulence Headquarters as you Dey do giveaway up and down, make we help your papa small carry white cloth Dey run am for people head Dey call am giveaway, Oni shey orire, Papaya Omo Muti oyo olosho/ologun owo.
Fresh drama as blogger unfolds how Papaya Ex's father is suffering in Ibadan
---
papaya ex parents, who is papaya ex sister, papaya ex family, who is papaya ex mother, papaya ex biography, papaya ex real name, papaya ex education, papaya ex net worth,