Nigerian crossdresser, James Brown was the centre of attention at comedian, Sir Balo's wedding over the weekend.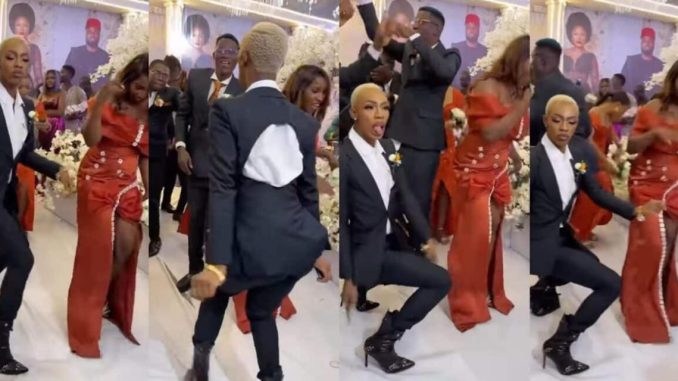 News reported on Friday, that the comedian held his traditional wedding to his lover in Benin City, Edo State.
On Saturday, December 3rd, Sir Balo threw a lavish wedding, with James Brown as one of the groomsmen.
In a video posted on his Instagram page, the crossdresser could be seen scattering the dance floor as he showed off his energetic dance skills.
James no doubt stole the spotlight as all eyes were on him.
Captioning the video, he wrote,
"Shutting down Benin @sirbalocomedy_'s wedding. The Queen is ruling #peaceofmind2022".
Sir Balo's traditional wedding
On Friday, KFN reported that Obotuke Timothy better known as Sir Balo held his traditional wedding in Benin City, Edo State.
Instagram blogger, gossip mill tv had shared photos and videos form the traditional wedding online.
The comedian and his wife were dressed in Edo bridal attire, with beads adorning their neck and hands. In photos which circulated online, the couple could be seen with their bridal train as they posed for camera.
James Brown defends his reasons for crossdressing
In other news, James Brown had explained why he chooses to dress as a woman.
The dramatic Duchess of London took to his instagram account to share pictures of himself dressed as a man however, with female nails. A fan told him he is handsome as a man and doesn't understand why he acts like a woman.
Responding to the fan, James Brown said he dresses like a woman because it pays the bikks naturally. He also said that being a woman can make somebody rich however, if the person is smart. He also offered to help if the fan is interested.
Conversation between James Brown and Fan
The fan wrote: You fine as a man, I don't know why you acting like a woman.
Replying to the comment, James brown wrote: Because it pays the bills naturally, Being a woman can make you wealthy if you are smart. I can teach!
Crossdresser James Brown scatters the dance floor at Sir Balo wedding
---
sirbalo biography, sirbalo comedy, sirbalo wife, sirbalo comedy wife, sirbalo age, sirbalo high school,