A man identified as Kuryanga has reportedly set his former wife, Janet John ablaze in Guyuk town in the Guyuk Local Government Area of Adamawa State.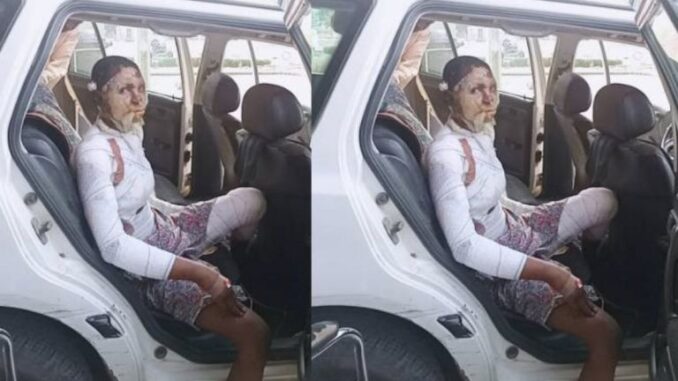 Per reports from Sahara Reporters, the court has placed restrictions on Kuryanga for seeing John as they terminated their 7 year marriage about three years ago.
However, Kuryanga has been breaking bounds and threatening John and her suitors not considering the court's order, according to Noyina, John's aunt.
Detailing what happened, Noyina said that Janet John was set on fire by Kuryanga when she was fast asleep.
"Despite getting married to another lady coupled with the court verdict, Kuryanga still refused to let go of her (my niece). Since then, he's been jealous, threatening her life and those of her suitors.
After he eventually struck, he still joined sympathizers at my niece's bedside in the hospital the following day. He almost got away with it, fortunately, his pregnant wife later confirmed that a container of petrol left at the crime scene belonged to their family.
He tiptoed to her sleeping area within our compound in the dead of night, poured petrol, struck the matches and fled; leaving her in flames. He got her because of the scourging hot weather. We all sleep in the open" Noyina said
Additionally, Noyina said
"It was terrifying to wake up to see the burning; it was like a typical horror movie scene. It was more torture to hear my niece's cry for help while she burnt"
Kuryanga was detained, according to the heartbroken aunt, and he confessed to the murder and appealed for forgiveness.
Nigerian Man Sets His Estranged Wife Ab1aze In Adamawa
---
bandits kill soldiers in zamfara, nigeria 10 10 2022, sahara reporters newspaper headlines today, ipob bans rearing, consumption of cows in south-east nigeria, breaking news this afternoon, sahara today news, nigerian money laundering, the punch sahara reporters
---
Do you know you can make money from this site? Just by reading news, Sharing content, Commenting, posting and more…
Kindly Hit The WhatsApp button below for more information and how to process your registration.
Click to WhatsApp
Click to WhatsApp
---