Billionaire wife and Nollywood actress Regina Daniels has revealed her strength and weakness to the public on social media.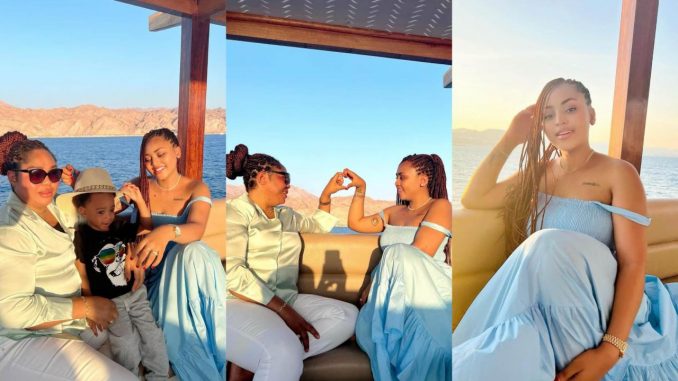 The beautiful mother of two rocked the photo-sharing app, Instagram, with beautiful photos of herself, her son, Munir Nwoko, and her mother, Rita Daniels.
Sharing the photos online, Regina Daniels highlighted what each picture stands for, stating the first slide is her weak point and strength while the latter, a photo of herself and her mother, captures her best friend.
She wrote: First slide: My weak point and my strength
Second slide: best friend
Third slide: pretty me
Lovely reactions are trailing this development as many send heartwarming comments to Regina Daniels' timeline.
Reported that Regina Daniels raised the alarm when her mother, Rita Daniels' charged for her omugwo services.
The beautiful mother of two, who welcomed her second child on the 29th of June 2022, the same date as her first son, shared the video online where her mother was spotted counting wards of foreign currency.
Regina Daniels made a funny capture along the video, stating that her mother had been charging her for omugwo fees.
She wrote: My mum has been tasking me for omugwo ooo
Recalls that Regina Daniels left many gushing when she showed off her beautiful and adorable moments with her two sons, Munir Nwoko and Khalifa Nwoko.
Regina Daniels shared a compiled video of herself, her two sons, stepchildren, and her billionaire husband, Ned Nwoko, having fun while they adore little Prince Khalifa.
The beautiful young actress shared the video on her verified Instagram page, where she disclosed that she had watched the video repeatedly and is grateful for God's blessings.
Regina Daniels also disclosed how motherhood had been with her since the arrival of her bundle of joy, stating nothing gladdens her heart than seeing her little ones together and loving each other.
She wrote: I made this video, watched it over and over, kept thanking God for blessing me with this adorable little one and just can't help but share it with the world. I can't believe I birthed the same baby twice 🥺🙈
Motherhood is indeed so beautiful and nothing gladdens my heart than seeing my two little ones together and loving each other. 💕🥰❤️ @princekhalifanwoko @princemunirnwoko @princenednwoko
Regina Daniels publicly reveals her weak point and strength
---
regina daniels movies, regina daniels age, regina daniels accident, regina daniels husband age, regina daniels baby, regina daniels photos,
---
Do you know you can make money from this site? Just by reading news, Sharing content, Commenting, posting and more…
Kindly Hit The WhatsApp button below for more information and how to process your registration.
Click to WhatsApp
Click to WhatsApp
---