Legendary Nigerian singer, 2Face Idibia's baby mama, Sunbo Adeoye, has shown her gratitude as she makes their sons, Zion Idibia and Nino Idibia's dreams come true.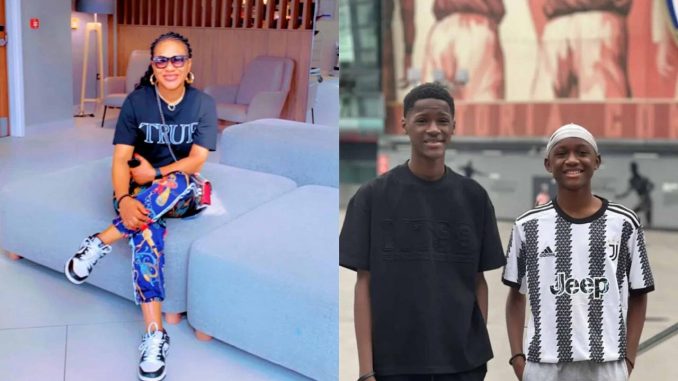 The proud mother of four shared a photo of her two older sons online with a grateful caption filled with emotions on how she was able to fulfil her sons' dream.
Sharing the photo, Sunmbo Adeoye thanked Francis Ajilore for making her sons' dream come true, as their tour was one of their bucket lists (wishes).
She wrote: Bucket list ticked ✅
Thanks, TFA @thefrancisajilore, for making this happen for my Teens.
That tour knocked them out.
News recalls that 2Face's wife, Annie Idibia hailed Sunmbo Adeoye and showered her with praises for how well she raised her son, Nino, who had his induction ceremony on June 21.
This was after Sunmbo Adeoye shared the good news of her son's induction into a leadership role as a social prefect in his school.
While she shared the photos, Sunmbo Adeoye praised her son for being a pride to them all and noted how the values she had instilled into him had given him great hope that amidst the horrible things currently going on, he could show his light.
"It's such an honour to attend our first child's induction into this leadership role as a social prefect. The values we have instilled into him over the years, gives me great hope that amidst the horrible things currently trending and happening amongst teenagers, adolescence and young adults in Nigeria, he will show forth the light and spread his own quota to positively influence young people within his school. Thank you Jesus for the gift of Nino. Ever living God, you are so real to my family and I".
Annie Idibia who reacted to the post, took to Sunmbo Adeoye's comment section to praise her motherly duty and affection on her children.
She wrote, "Fabulous. Big congrats son. Weldone mama"
Sunmbo Adeoye emotional as she makes their sons' dream come true
---
sumbo adeoye, sumbo tuface baby mama instagram, annie macaulay-idibia, tuface, olivia idibia,