Nigerian actress Toyin Abraham has taking social media to thank God for using her family to favoured her.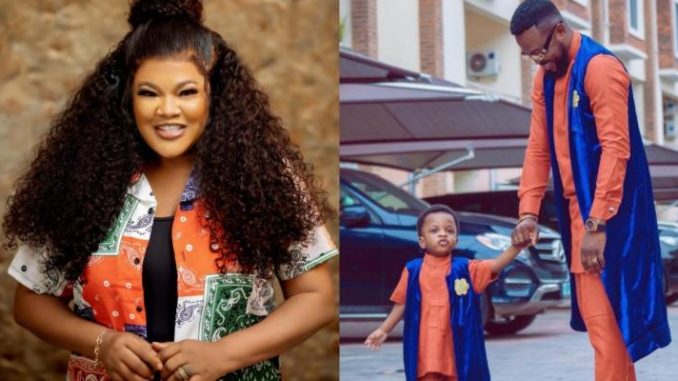 Toyin Abraham in one of her recent post on Instagram, shares a photo of her husband, Kolawole Ajeyemi and her son Ire Ajeyemi gushing over them.
She captions the photo:
Sometimes I look at my family and wonder what I did right in this life to get this favoured! Thank you God! ❤️❤️❤️
News recall that, Toyin Abraham and her husband Kolewole Ajeyemi celebrate their son's two years birthday yesterday.
See the photo she shares below:
News recall that Nollywood actress Toyin Abraham has spoken out about her bitter conflict with Lizzy Anjorin.
After going silent for some months, Toyin addressed her conflict with contentious actress Lizzy Anjorin, according to NB news in 2021.
Lizzy Anjorin brought up her feud with Toyin Abraham again, saying that the latter had not only made fun of her in the past but also disseminated untrue rumors about her and referred to her child as an idiot.
Lizzy insisted that Instagram had no nasty users, pointing out that many of her coworkers, including Toyin Abraham, had created fictitious accounts to harass and disparage one another.
Toyin Abraham acknowledged that she had never trolled Lizzy with a phony Instagram page or hired a writer to criticize her during an Instagram Live session with Iyabo Ojo.
Toyin said that a fan of hers attacked Lizzy Anjorin, and she also requested the fan not to include her in any online controversy.
Toyin Abraham, who broke down in tears, explained that she was reacting to the situation because she wanted to shield her kid and husband from being implicated in it by Lizzy.
Giving an update on their beef, Toyin Abraham revealed that she had involved the police.
In a statement on her Instagram page, Toyin stated that it was important for her to make clarifications and share information with the public, especially after the conclusion of the police investigation.
Toyin stated that she and Lizzy don't have any issues as the investigation revealed that she did nothing wrong to Lizzy.
Toyin disclosed that Lizzy ran with a fan comment which didn't come from her.
At the station, the two actresses tabled their grievances and she apologised and they have since moved on.
Her statement reads,
"It is important that I make this clarifications and share this information with the public especially after the conclusion of police investigation.
Lizzy Anjorin and I, we no longer have issues. Yes, I had to get the police involved. The investigations revealed that I did not wrong her. She ran with a comment of a fan which did not come from me. At the Police station, we tabled our grievances and she apologised and we have since moved on.
This clarification is important for some reasons and the Police have concluded their investigations and I need to let the public know.
And please, I am begging anything that has to do with me and Lizzy is now in the past. I beg you. And I also want to beg everyone, every child is my child no mater how the case may be please kindly take children out of it. I am on my knees. I am begging, Thank you and love you all. Thank you.
Lastly I want to say a huge thanks to all my fans for always supporting my brand and loving me unconditionally".
Toyin Abraham thank God for using her family to favoured her
---
toyin abraham state of origin, toyin abraham first husband, toyin abraham net worth, toyin abraham children, toyin abraham daughter, toyin abraham husband age, toyin abraham biography and net worth, kola ajeyemi,